Last week I had the pleasure of visiting Finch and Fouracre, makers of the very successful Scottish tenement model kits. I first came across these kits in the shop of The Lighthouse, Glasgow's centre for design and architecture, where the product has become something of a classic, a much loved replication of the type of esoteric buildings that most inhabitants of Glasgow tend to live in.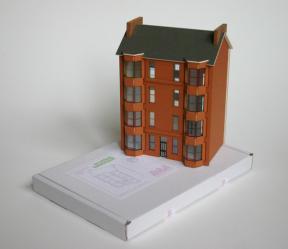 Franki Finch and Beth Fouracre met whilst working at one of the city's well established model making firms, and now operate a very cosy studio taking on model making commissions and producing kits for sale locally and on the web. The pair make use of various production techniques, both hand and computer driven.
Can you give us a brief idea of the processes you use in making a Tenement kit – currently, what are the biggest challenges in their production?
We get all the pieces for the walls and roofs laser cut from mount board; the chimneys we cut on a bandsaw, and the windows printed onto acetate. We also buy glue and boxes for the kits. Then we lay all the components out in a line and box them all up.
 The walls and roofs are the main components to the kits, and getting them laser cut has been our biggest challenge, something we still have problems with – finding somewhere local that can regularly take our work. Apart from that, just finding enough space in our wee workshop to gather all the things needed and make up the kits can be a bit of a logistical challenge! In terms of selling the kits, and probably because we're quite new to this, predicting demand can be a bit tricky, but we're getting the hang of it!
How did the idea for the kits come about? Did you plan on becoming kit-builders?
We didn't plan on becoming kit-builders at all! Seeing products in places like the Lighthouse inspired us – we figured we could do it too. We started experimenting in our spare time when we weren't busy with modelmaking commissions. The idea came from kits Franki had when she was a kid. We explored ideas for a few different buildings, but the tenement won hands down. Neither of us are from Glasgow originally, but we both love tenements, they're so much a part of the city.
Next year we're planning on developing more kits, but we haven't deicded what that'll be yet, so any ideas are welcome! We never expected the kits to go so well, but we're really chuffed and enjoy it a lot.
Beth and Franki allowed me a sneak preview of their newest product – a tiny version of the Tenement model, just an inch and a half high, in acid-etched nickel silver: an exquisitely detailed and delicate item.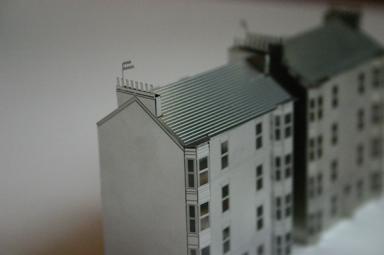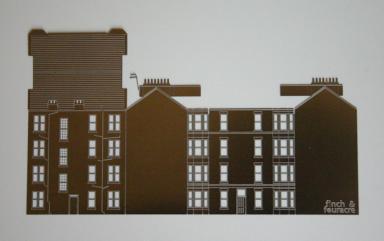 How does your new Tinyment model differ in terms of the user's participation in the model's construction?
We think the Tinyment is more of a 'grown-up' product, while the Tenement kits seem to appeal to all ages. The Tinyments are simpler, being a single sheet of nickel silver, but also have more detail, and are more delicate to make. They also take less time, the Tenement kits are more of a project to make, with step-by-step instructions and a variety of parts.
For us, we like the Tenement kits because of the variety of materials, and the task of making a model, yet we like the Tinyments because they're so neat – each product appeals in different way.
Why do you think people like miniatures and what do you think is the appeal of making them from a kit?
For the tenements, people identify with them, we often hear people say "I live in that one" or "this looks like my flat". It also seems to inspire people, there's always suggestions of putting lights and wee people inside the models.
But in general, we can't really put a finger on why it is people like miniatures, although so many things are miniaturised. Perhaps it's because you feel in control! It creates a different perspective. For example, we build models for architects, and even though they've designed it, when they see the model they often are fascinated with its smallness!
 We think the appeal of our kits is it allows people to be creative without requiring any special skills, and completing any kit well gives you a nice sense of achievement!