Could Ponoko have a 3D Printing beta twin?
Shapeways has been mentioned on the Ponoko blog a few times before, from the recent interview with Frank Pillar to Duann's report on the company back in August. But I thought I would take a closer look at the Netherlands based start-up since they recently announced a competition to have one winning design 3D printed in Titanium. (Details at the end.)
Have you ever wanted to turn your 3D designs into reality? Enter Shapeways! Just upload your design, we print it and ship it to you – it's easy. Within ten working days you'll hold your own design in your hands.
But that's not all – we're offering you everything you need to meet fellow Shapeways users, share your work and find inspiration.
We're using a technique called '3D Printing' which has proven itself as a high-quality production technique, but up to now has always been very expensive. By creating a large community we are able to produce much cheaper, meaning better prices for you.
That's from the Shapeways about section. Sounds familiar… The drawback is– you've got to know how to work a 3D software. There's a forum, tutorials and support pages to help you out. But if, like me, you like to keep your distance from Maya and SolidWorks, there's Creator. While you can't make your own design like you could with Ponoko's Photomake, the Creator program from Shapeways does let you customize pre-existing designs.

There are currently three designs you can customize with Creator: ring poem, light poem and fruit confessions. I wasn't able to play with Creator myself because registration with the site is activated manually… and I didn't have the patience to wait. But my guess is that you type in your own message, and the program turns the letters in your message into the napkin ring, the light or inscribes it on the outer ridge of the fruit bowl.
For those of you that are blessed with 3D software skills, you can make a whole lot more than poems. Check out some of the designs that have been executed with the Shapeways service. By the way, you can also sell your 3D printed designs through the Shapeways gallery.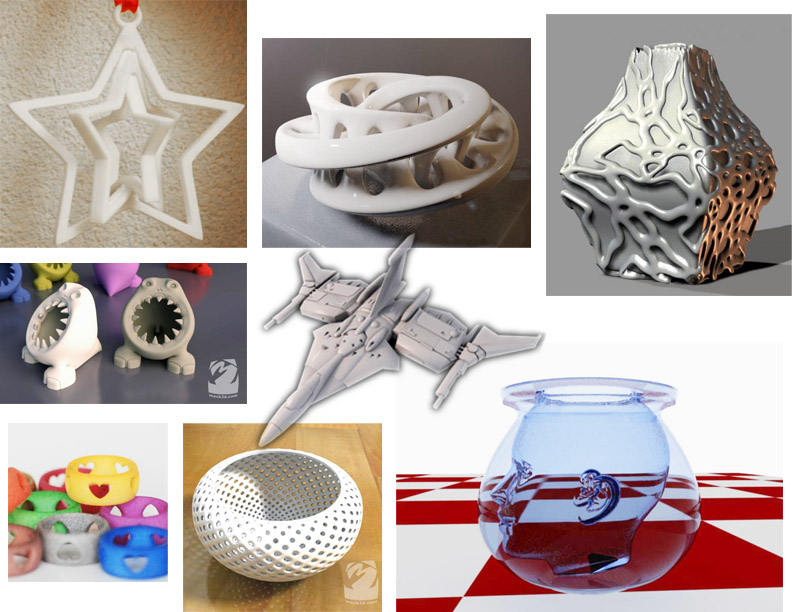 Pretty incredible.
And from now until 15 January, Shapeways is holding a contest to have one winning design 3D metal printed in Titanium. Titanium! Visit their blog for more info on the contest and frequent updates on the service.