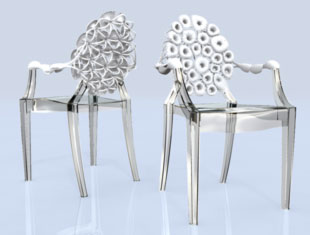 Loosely related to the previous post on Automake is the conceptual design practice of Lionel T Dean at Future Factories. Continuing the generative theme of organic growth with a design that's in a constant state of evolution. In Holy Ghost (a reinvention Starck's Louis Ghost, itself a reinvention of a Louis XV armchair) the back and arms of the chair design have been morphed to create an evolving object realizing 'mass individualization'. The chair is presented as an animation sequence, which Dean has frozen and used to create two 'hard copies' of the design using Rapid Prototyping technology.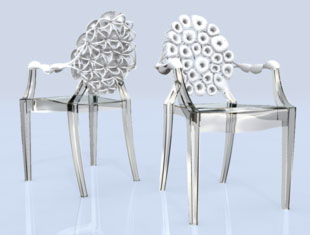 The Entropia is a lighting design now available for purchase that uses growth, decay and mutation algorithms to produce a lamp in laser-sintered nylon built in 1200 layers and a Chrome-plated metal fixture.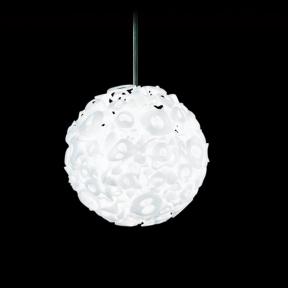 Initially what started as a 1 year research project during a design residency at the University of Huddersfield, Dean continued the work into a practice based PhD thesis. Now working on experimental, one off, serialized and commercial products, Future Factories is the banner under which Dean flies the digitally printed, meta-design based realization of 'mass personalization'.