Last month I met with Craighton Berman at the design consultancy gravitytank. After a quick tour of the offices, which included versatile spaces for brain storming, personal spaces with computers and a well equipped shop, we sat down in the kitchen and fueled the conversation with beer and birthday cake.
Me: To start off, can you tell us about your educational and design background?
CB: I went to Virginia Tech, started in Engineering and then discovered Industrial Design. Out of school I got a job in Chicago  designing backpacks, bags and luggage. My senior thesis was this modular mass-customizable bag concept– before Freitag released their F-cut, which is their mass-customization online cut-out. After a bit I wanted to do something more varied and get into consulting. So I took a job at Ignite, which is an interesting firm because they do consulting but also manufacture their own products. I worked on products for Starbucks, a pet product line, a huge line of products for Mead… but after a few years found myself becoming more interested in the strategy behind the products. I wanted to work on things at a conceptual level. And eventually came to gravitytank to do that kind of work. So now I'm working with teams of strategists, analysts, and researchers to help identify opportunities for innovation, define design strategies, and shape advanced concepts for our clients. I've worked on projects ranging from consumer electronics to retail design and along the way I've had the opportunity to develop the use of storyboarding and scenarios in our work.
( Not only does gravitytank serve birthday cake, they also let their designers work on independent projects at the studio.)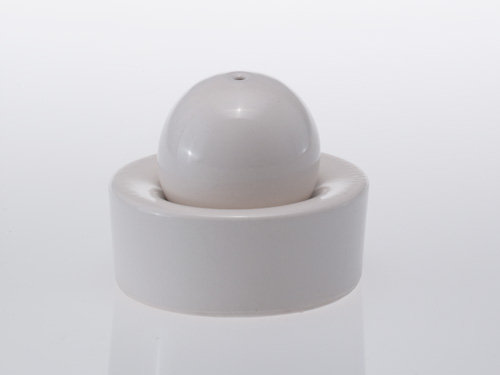 above: Pinch, ceramic salt cellar and pepper shaker set for tabletop use.
Me: Is there any theme or concept that drives your personal work?
CB: I'm very drawn to designs involving user-interaction. Pinch, my salt and pepper shaker, came from the way my wife and I use salt while cooking; we pinch Kosher salt from a bowl and sprinkle it over our food to season it. And I thought, how can I make a product that brings that action, that function, to the table. With my Coil lamp, which was in the Deceptive Design show, it was driven by this idea of making a lamp out of just it's cord. I started with fabric covered cord and soaking it in resin. But a lot of factors were keeping that from happening, so I moved on to the plexiglass frame. And I started to get excited, because the user can create their own lamp using my frame and their own cord.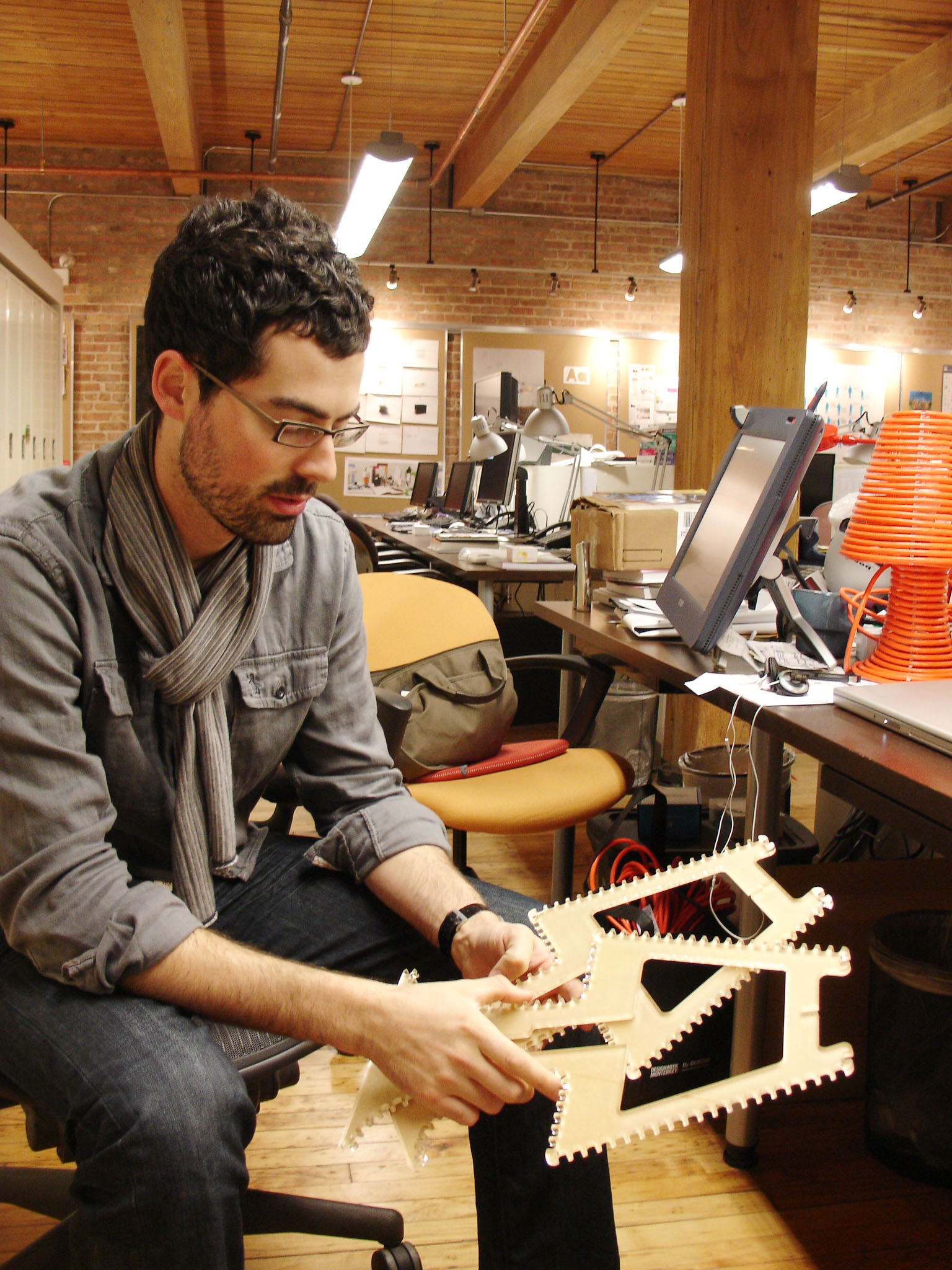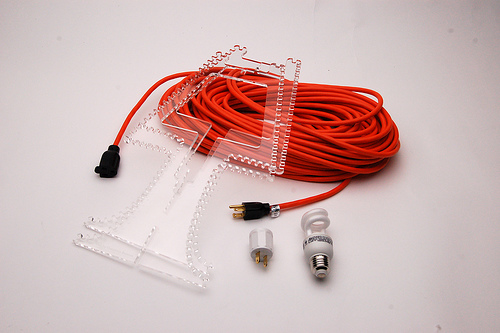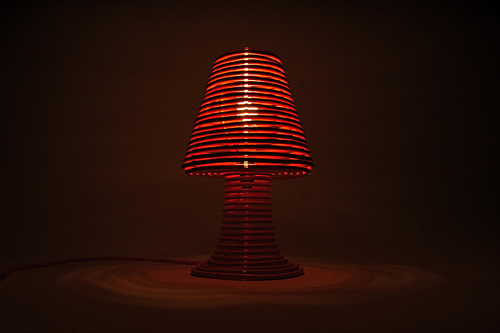 Me: The three independent projects on your website are all different materials; plexiglass and cord for Coil, ceramic for Pinch, and steel for Perforated. Is there a material you haven't worked with yet that you'd be particularly interested in?
CB: To be honest, materials are very secondary to concepts for me. I'm much more driven by the pursuit on an idea, and I find that the selection of a material to work with usually comes naturally. However, I do have a shortlist of materials I love (industrial felt, egg carton cardboard, metal wire, waxed canvas, and that waxy plastic they use for tortilla containers at Mexican restaurants, among many others) and could certainly envision experimenting with their qualities as a starting point for future ideas.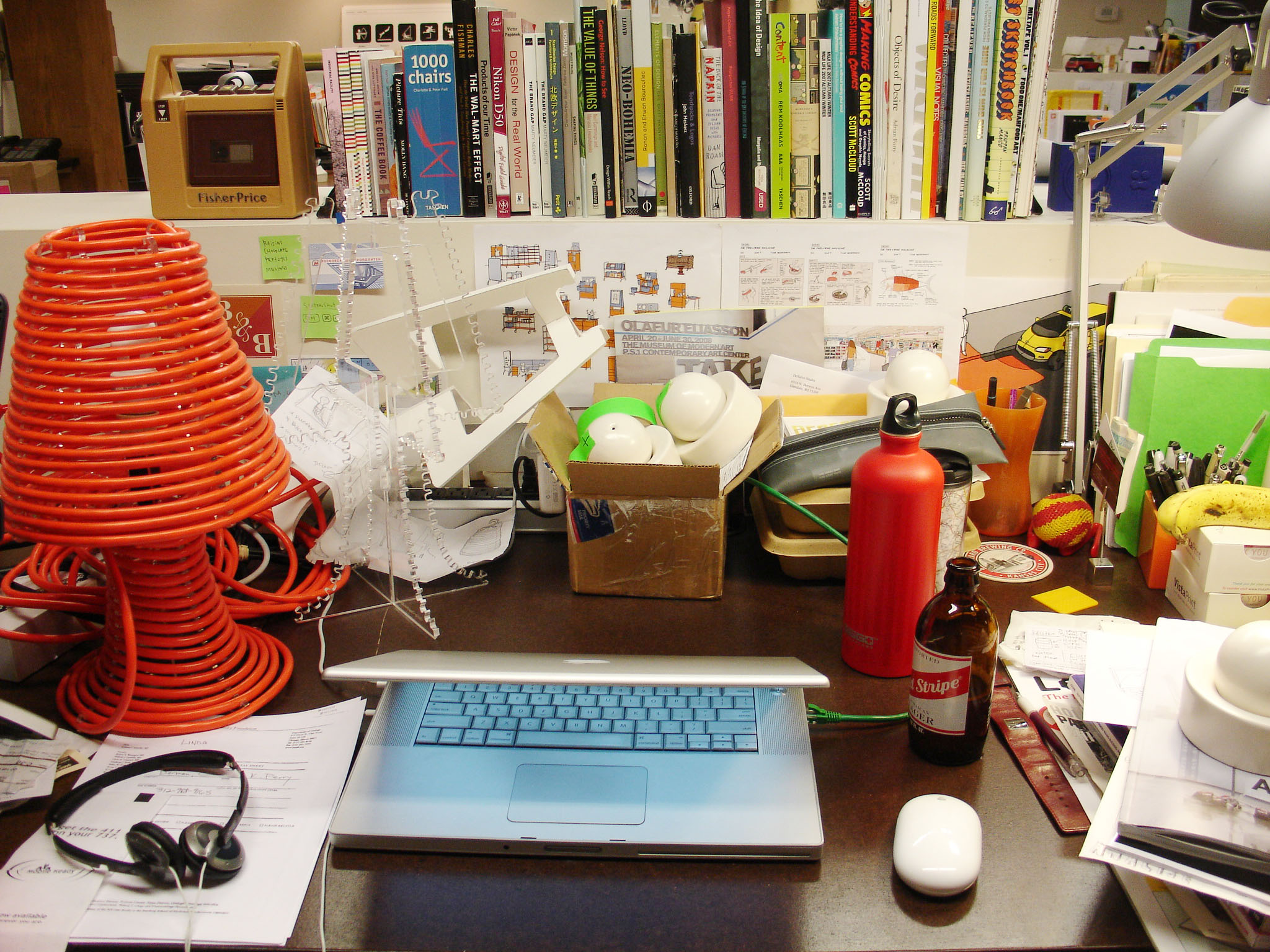 Craig's desk at gravitytank
Me: Do you have future plans to strike out entirely on your own or do you prefer having both the day job and side projects?
CB: It's always been a goal of mine to someday run my own design studio with a small group of collaborators and some like-minded clients — my entrepreneurial tendencies certainly draw me towards the complete autonomy and creative control of an independent studio. However, the current way I work with a day job and side projects is very rewarding in other ways. It's very nice to use one to escape the other– when the challenges of creating a future mobile phone experience is weighing heavily, it's nice to spend a few hours cutting prototypes or sketching ideas in my book.
Me: Are there any designers that you find particularly inspiring?
CB: I'm really into Naoto Fukasawa. His work is very understated but very thoughtful; he's a keen observer of people and that little insight he gets drives right into his products. He does a lot of work for Muji, so his philosophy is very much in line with theirs– when the everyday objects around you are muted, the things that really matter come to the forefront.
I also really like the gorgeous work of the Bouroullec brothers and Sam Hect from Industrial Facility. And I love the playfulness and creativity coming out of the designers in Okay Studio. Personally, I'm into insightful ideas and simplification of form, but really I'm a sponge for any type of design news.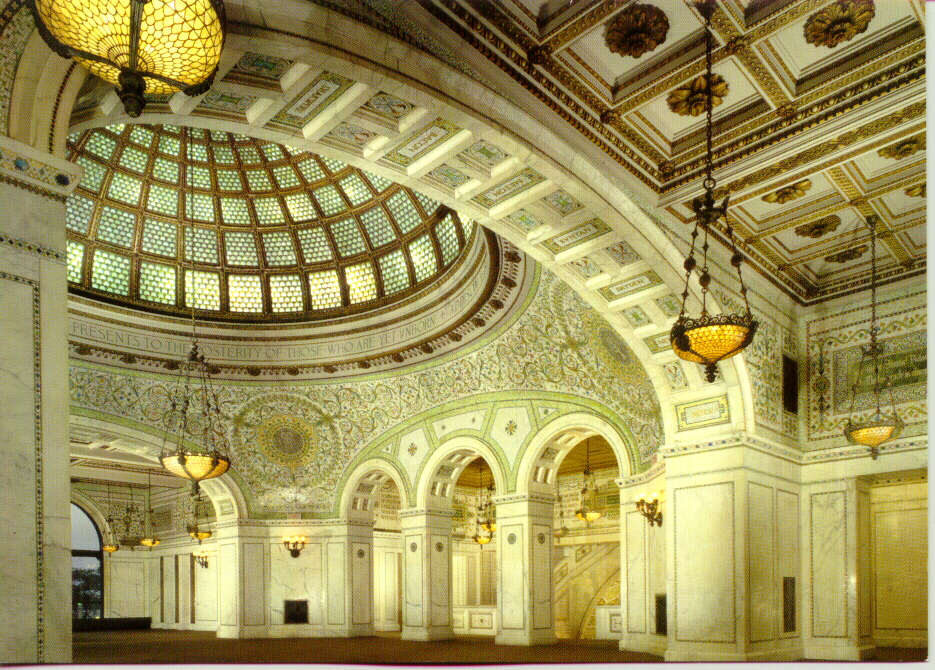 above: Chicago Cultural Center, site of the Deceptive Design exhibition
Me: And finally, do you have a favorite thing about being a designer in Chicago?
CB: It's the opportunity. There's a lot of design history as a city, but it doesn't have a set-in-stone contemporary scene. The coolest part is that the city is huge, but still accessible and open to designers. I was able to help organize the Deceptive Design show in one of Chicago's most high-profile public galleries– I think that would have been a lot more complicated to put on in a more design-saturated city. It's obviously tempting to go to New York or San Francisco, but what I think is rewarding is being part of the new identity of Chicago design.
Check out Craighton's website for more photos of his work and contact info.