I've always loved paper products and frequently send letters and cards to friends and family, but the Holidays are really the raison d'être of stationery. So for the month of December, I'll be focusing on all the things Ponoko loves: mass customization, consumer creation and laser-cutting as they relate to paper.



One stationery company that I've personally had the good fortune to freelance for on occasion is Fontaine Maury. Since the spring of 2003, Haile McCollum has been designing modern, personalized graphics for everything from notepads and rubber stamps to melamine plates and canvas wall decor under the brand Fontaine Maury.
The company is soon moving into wallpaper and fabric. Patterns can be customized with silhouettes of the client's choice. One such silhouette damask featuring Haile's own profile along with her family is featured in the January issue of Country Living.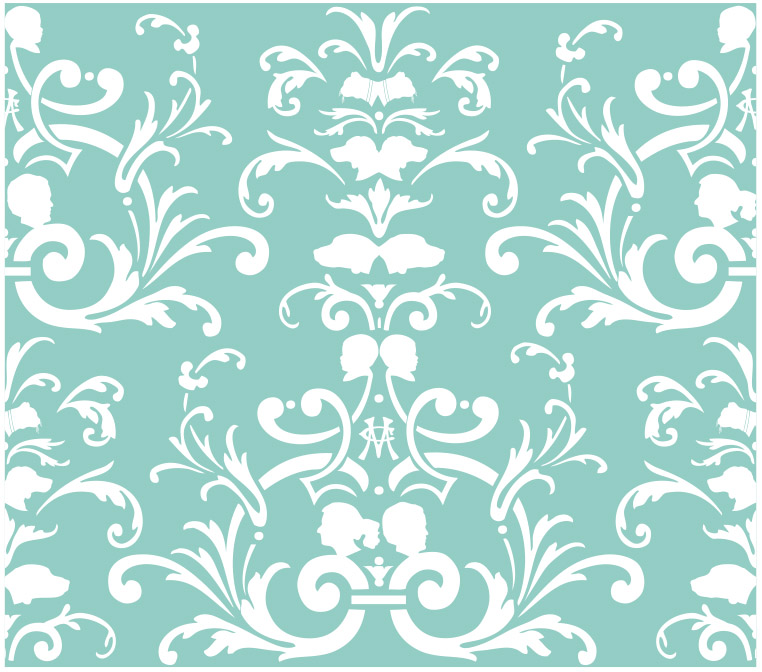 With her growing business and a new baby, Haile has been pretty busy. So I thought, what better time for an interview! Below, Haile talks about her love of customization, digital fabric printing, and demonstrates how to correct someone's spelling with tact.
Me: First of all, congratulations on the baby! Give us the details: name, weight, size, hair color!
HM: William Banks McCollum, little brother of Parker. 8 pounds 3 ounces, September 10, 2007! 15 months old and a QT pie. Hair… maybe red!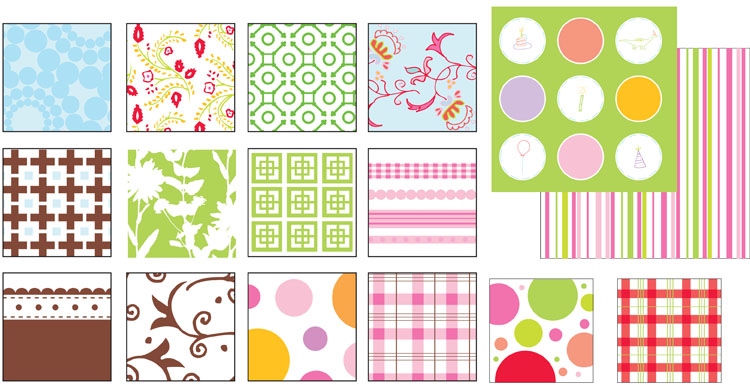 Me: When and why did you decide to start a stationary company?
HM: First of all, its Stationery- ery. -ary is when you are standing still and trust me, Fontaine Maury is not standing still. So my big picture is not stationery, but personalized. I moved back to the South after a just turned 30/snowboarding stint in Jackson, Wyoming. Got to our little town, Thomasville, and needed something to DO, not being married or having kids yet, I had lots of free time and not so many opportunities that I could really dig into. I almost bought a sewing machine to do digital embroidery. I love the idea that technology would allow me to sew what I can draw. But the machine was $16,000.  I already had a printer and a computer. So I started a personalized stationery company. I also had some stationery experience and only one 4-H sewing class under my belt, and that was in 1979.
Me: How has living in the South influenced your work and company?
HM: I think that living here I am somewhat out of the inner, super fickle design loop. Which is good in a way. I might be over stimulated if I lived in Brooklyn. Dunno.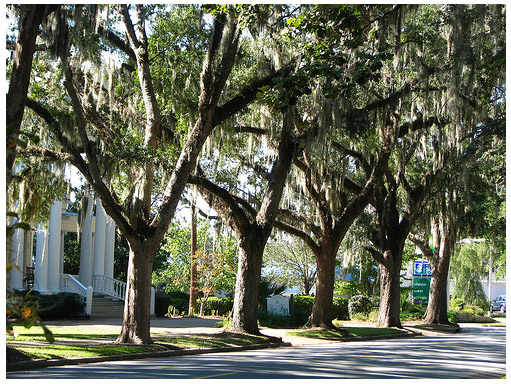 above: live oaks line the streets of Thomasville
Me: You attended school in the south as well?
HM: Yes, Vanderbilt University, BS in Human Development (one part organizational psychology, one part mojo, one part managing people in small groups). Savannah College of Art and Design, MFA Graphic Design- I actually wrote my thesis on the correlation between the industrial revolution and the technological revolution and how once artists and craftsmen eventually master the machine born from the revolution, amazing things happen. Think the arts and crafts movement as a reaction to the industrial revolution. But until the artists get a hold of the machines, and the "hand done" (does not have to be literally hand done) element into the work produced, the work is less than stellar. Example- digital fabric printing. Until artists grasp what the printers do we'll see some pretty shabby designs produced by the developers of the technology. Not artists, engineers and the like. Once the technology is more widely available and artists (creative types) grasp what can be done, it will be amazing! It's the missing link.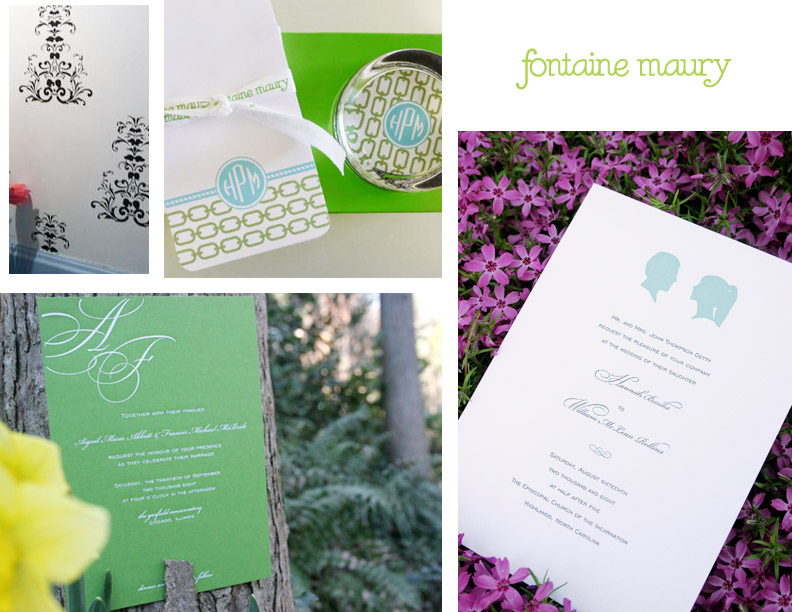 Me: Tell us your thoughts on customization. Why did you decide to offer this service? In what ways does offering custom products build your relationship with clients/buyers?
HM: I live for customization. I think that everyone is looking to show off their creative, inner product designer side. We create choices for our clients. They can then combine designs, colors, etc. as they please to make it a one of a kind item to suit them. We're not guessing what people want. We let them tell us. I go into a big department store and I see racks and racks of clothes, and I wonder why someone produces so much stuff that they hope someone will want to buy. It really seems like such a waste. We don't make any of our items until they are ordered. And because it is all custom, it's all made in the US. Which is so important to me.
Me: Since you mentioned making on-demand, do you still use a digital fabric printer for your fabrics? And are you familiar with the new company Spoonflower?
HM: I am wild for digital fabric printing. I love the idea of Spoonflower; I have read their blog and visited their site. I feel the same way about fabric, why are there bolts and bolts when you can print on demand?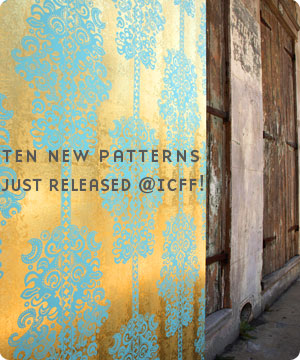 above: Flavor Paper's incredible screen printed wallpapers
Me: You mentioned to me personally that Flavor Paper printed a wallpaper for you. What was it like working with them? Did you see their booth at ICFF?
HM: Flavor Paper is the BEST. They did a custom job for us and it is amazing. We did a silhouette damask on silver mylar with white ink. We also ran it in silver shiny mylar with matte silver ink. I did not make it to ICFF this year, I was too busy a the Stationery Show upstairs, which is good and bad. ICFF is the best trade show there is in any category. Such energy.
Me: Finally, do you have any advice for the designers/makers/crafters out there who want to start their own business?
HM: Find a banker first. Kidding. Kind of. If I was starting right now, I'd start with Etsy, which did not exist in 2003 when I started. What an amazing platform to sell through.
Many, many thanks to Haile McCollum and best wishes for the future of Fontaine Maury.