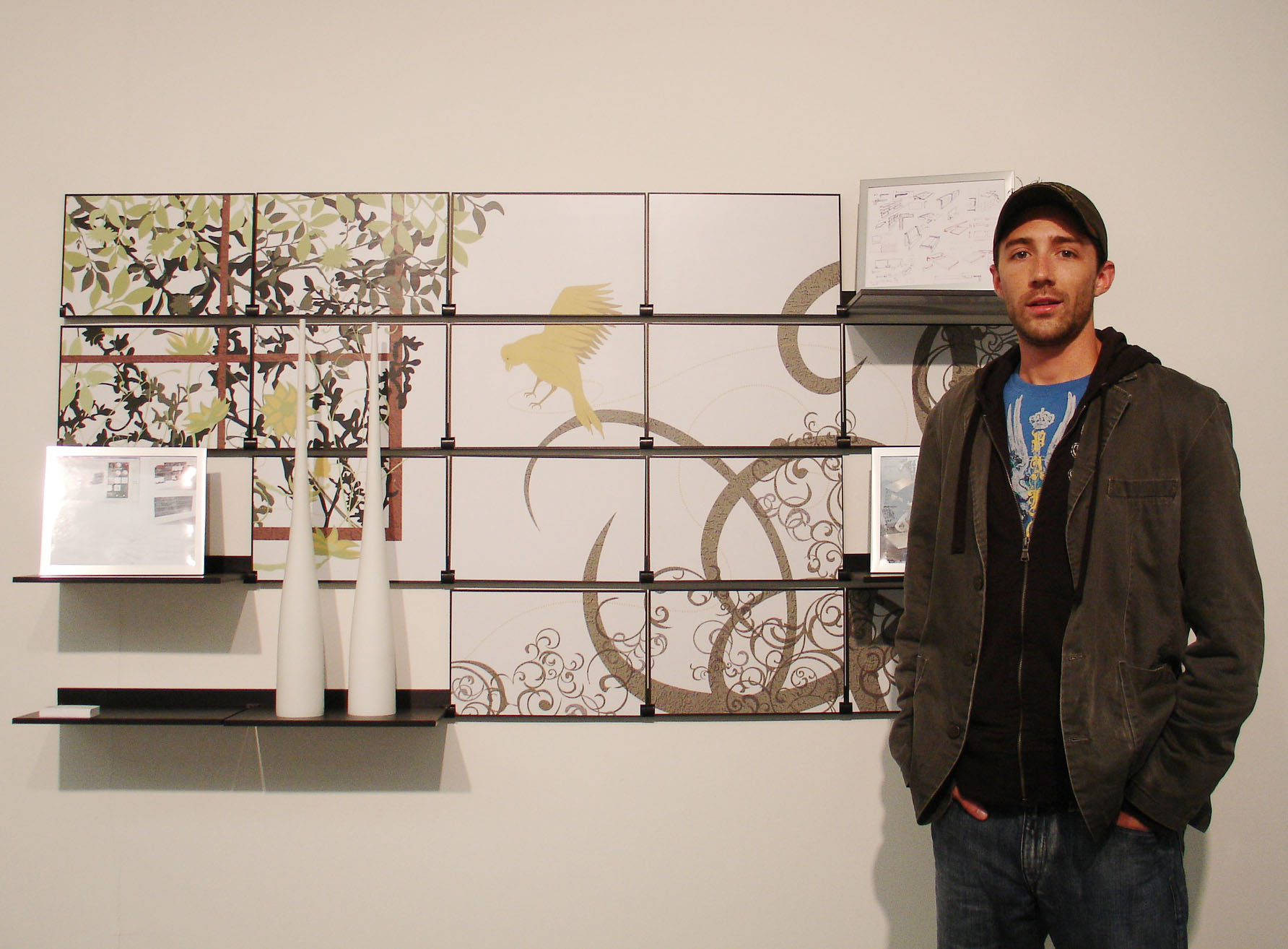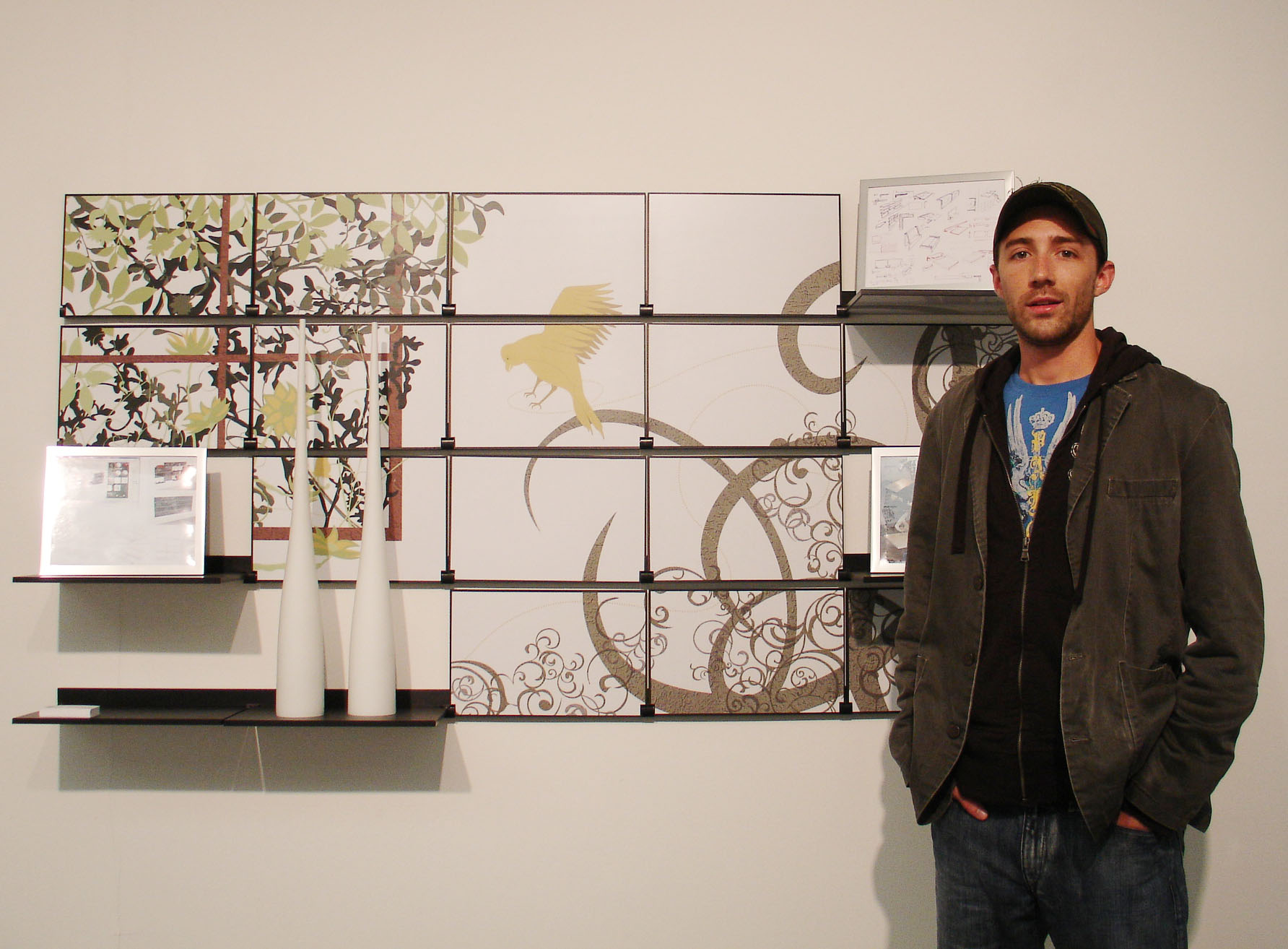 Earlier this month I returned to the Cultural Center where Deceptive Design is currently showing, and sat down with designer Mark Kinsley. The Deceptive Design site was recently updated with pictures from the exhibit. Mark's piece, Riveli, is a versatile shelving system that doubles as decorative wall art. Mark talks about his design career, his favorite software and why he loves living in downtown Chicago.
Me: Can you talk a little about your educational background?
MK: I was at the University of Cincinnati for engineering for 3 years, but after about a year I thought 'This is too much math, I can't do it'. And it was frustrating, because I had always wanted to make things, and I was being shot down in my first year. After two more years, I came across the design program and realized that's what I wanted to do.
But Cincinnati didn't see me as a serious design student, but kind of an engineering school drop out. So I looked at other schools, and decided to come back to Chicago where I grew up and attend Columbia. I was coming into the school as a junior though, so I had a lot of catching up to do. Kevin Henry, who was the director of the program at the time, really took me under his wing and gave me a crash course in design theory, ideation, things like that.
Me: Since school you've had a five year design career; what different kinds of work have you done?
MK: I started at Bretford; they do office and technology furniture. I got to work with Apple to create a laptop cart. I was with them for 3 years. Then Tech Lighting/LBL Lighting contacted me, and that's what I do now- inhouse lighting design.
Me: Do you have future goals or direction for where you'd like to go with design?
MK: I've always wanted to own my own company, whether it's a design firm and I've got people under me or I freelance independently and travel the world with my sketchbook. I haven't narrowed it down at this point because I'm still learning, but I know I want to travel. Everything I do seems to come back to the computer, and with the internet there's no reason I need to be tied down to my desk.
Me: Are there any themes or philosophies that you try to explore in your work?
MK: I know it sounds kind of cliche, but I'm a big proponent of less-is-more. Function before form. I want to make sure the thing works, and get rid of everything else that doesn't apply to that core function.
With the shelving unit, a lot of the concepts involved a peg you had to push in to stabilize the shelf or arms that came down to hold it steady. And I thought, ya know what, this is too much. I want the user to be able to walk up to the shelf, flip it, and use it. So I put a lot of thought into making it simple.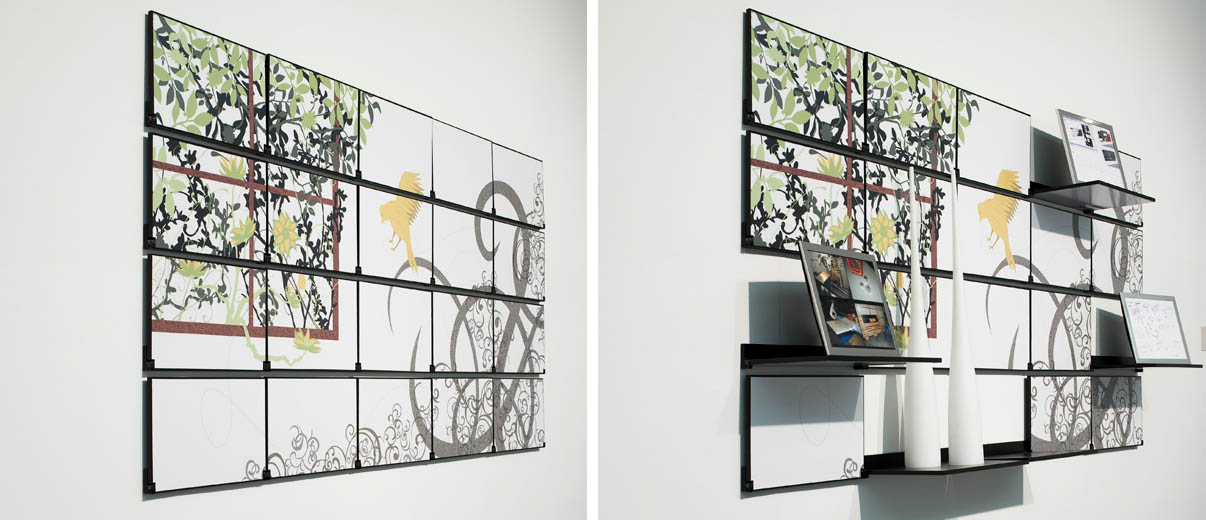 Me: Does the name 'Riveli' mean anything?
MK: I hope it does. I did a quick Google search, and Riveli means Reveal in Latin. It was probably 1 am, so I hope that's what it means.
Me: Are you interested in having Riveli mass-produced?
MK: Yes. Going back to that question about themes, I always ask myself 'Can this sell'? Because I don't want to make something that's just going to sit in a gallery. I want to make things people can afford and use.
The shelf got a great reception and lots of people were interested in buying, and people were telling me it should be in CB2 or Design Within Reach.
Me: Have you considered producing it yourself?
MK: I did, but the advice I've gotten is not to go into my own business just on this. The man hours it would take to make it would make the cost of the item too high for most people to buy it.
Me: As a textile designer, I think the artwork is a really interesting aspect to your shelf. It's refreshing to see a piece of industrial design really take surface design into consideration.
MK: The artwork was actually done by a friend of mine that's a graphic designer named Rebekah Murray.  The shelf itself is very cold, very minimalist. I wanted the graphics to be warm, organic, colorful… basically a contrast to the shelf that adds that surprise.
(Rebekah can be contacted at bekah[dot]murray[at]gmail)
Me: How is the artwork applied? Is it adhered to the surface or slid in a type of sleeve?
MK: It's actually just on the surface. But I had so many ideas with it— maybe it's a canvas and you can paint directly onto it, or maybe it's a sleeve system like you mentioned and you can order different packages of new inserts or even print your own to change out the look, or family photos. There's a whole range of things you could do.
Actually, my original concept was to do some type of laser etching on the underside, but that just became way too expensive.
Me: Have you used many rapid-prototyping technologies?
MK: At my old furniture company, I used FDM. (Fused Deposition Modeling) It uses ABS which is extremely strong. We also had a plasma and a laser cutter. At my current company, we do a ton of SLA modeling. (Stereolithography)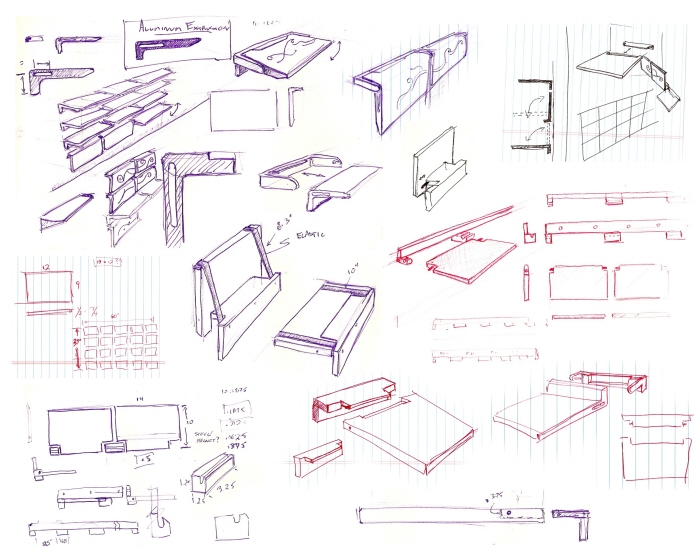 Me: How do you work through your process? Do you start with sketches or writing down ideas, or do you like to play with materials?
MK: At work I like to start exploring materials. If I'm using a fabric, I actually play with the fabric to find out it's properties— does it stretch, will it burn… But I keep all of my ideas in a sketchbook. Actually, I don't use a nice sketchbook because I feel like it has to look good in, say, a Moleskin. So I just have a legal pad that I scribble all over. And I like to play in the computer too. Alias, which is a 3D modeling program, has a rendering feature where you can drop all kinds of materials in. Lots of times that will spark an idea.
Me: Is Alias your favorite software?
MK: I love SolidWorks. I use Alias at my work right now, but Solidworks combined with Illustrator and Photoshop are great.
Me: Do you have any favorite designers or specific inspirations?
MK: I really just soak up everything. The internet lets you take in such a variety of influences. Jonathan Ive is probably the designer I'm most influenced by, but I do really like Marcel Wanders and Jamie Hayon. It really depends what I'm working on. With technology furniture you're not going to put gold leaf on a laptop cart. So in that case, I was inspired by Apple's design.
Me: Last question, do you have a favorite thing about living in Chicago?
MK: It's great. I can get anywhere just by walking. I can walk to Millenium Park, walk to work, walk through the city… There's so much to see. I go walking almost every night in the summer. You can go by the Merchandise Mart and see the showrooms; they're always changing out their displays, and you can see everything from kitchen design to textile displays to antiques. There's a lot to like about living in Chicago.
Thanks again to Mark for the interview. For more of his work visit his Coroflot site.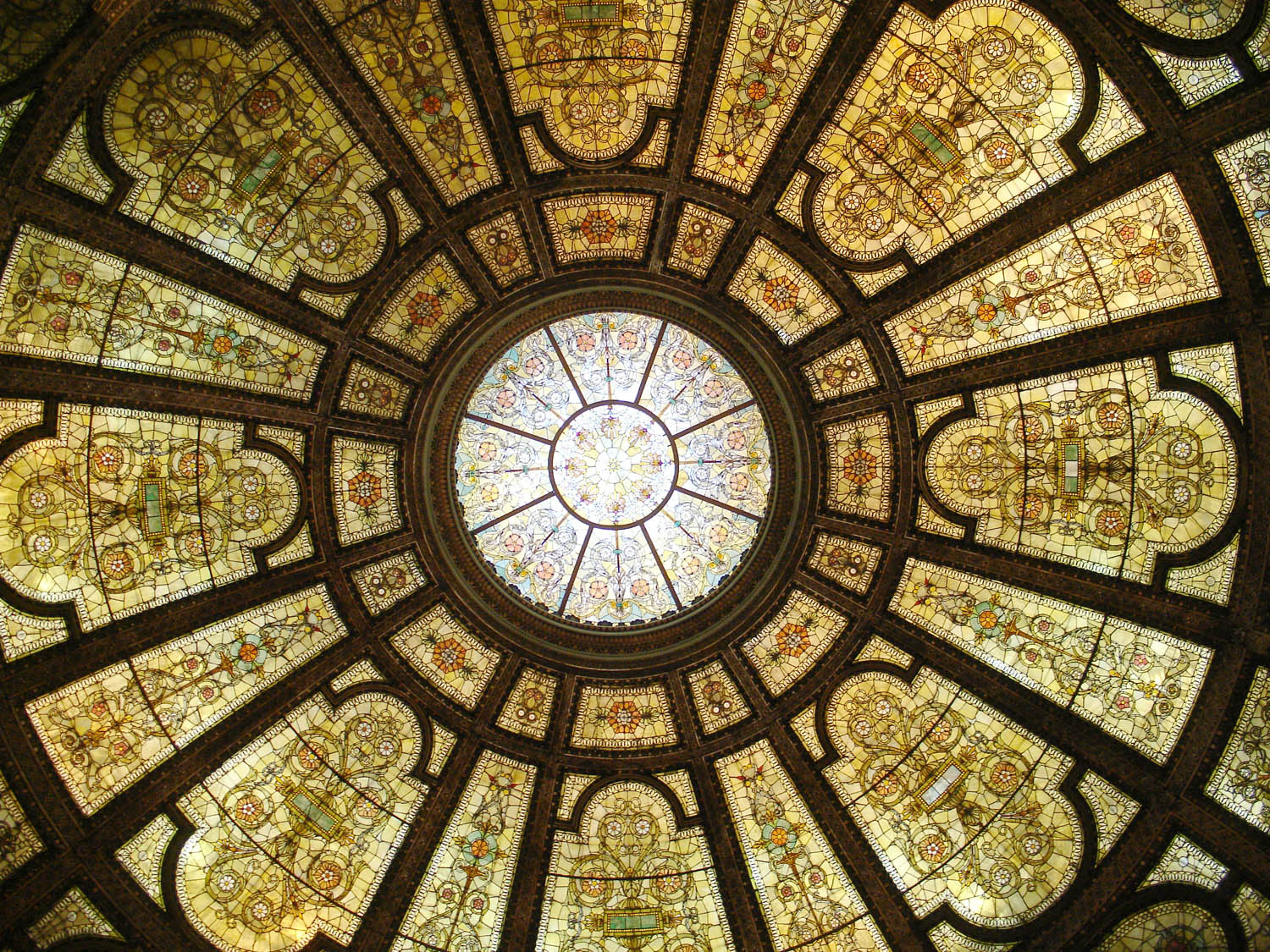 (above: the Tiffany dome of the Chicago Cultural Center)