The Ponoko blog has already mentioned Frank Piller a couple of times but we will take another look in the context of the MIT Smart Customization seminar where he is one of the organizers and keynote speakers.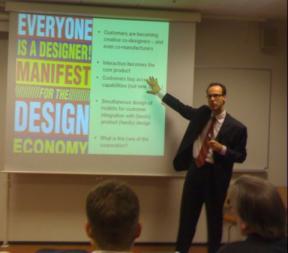 Frank Piller is a chair professor of management at the Technology & Innovation Management Group of RWTH Aachen University, Germany, one of Europe's leading institutes of technology. He is also a founding faculty member of the MIT Smart Customization Group at the Massachusetts Institute of Technology, USA. Before entering his recent position in Aachen in March 2007, he worked at the MIT Sloan School of Management (BPS, Innovation and Entrepreneurship Group, 2004-2007) and has been an associate professor of management at TUM Business School, Technische Universitaet Muenchen (1999-2004).
Frank also writes the Mass Customization & Open Innovation News blog, which is THE go to site to get the latest news on mass customization. Frank's years of experience in both academia and industry give his insights particular weight so you are sure to see some of the more interesting examples cropping up, including Ponoko..



Frank has been kind enough to grant us an interview to discuss some of the more exciting aspects of Mass Customization as well as an overview of the MIT Smart Customization Seminar