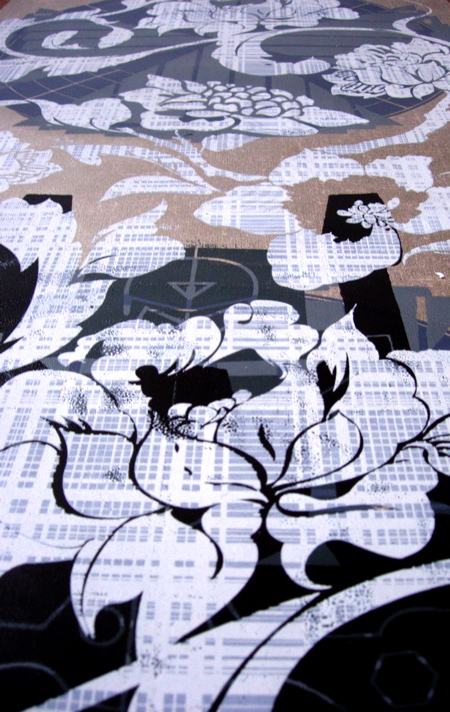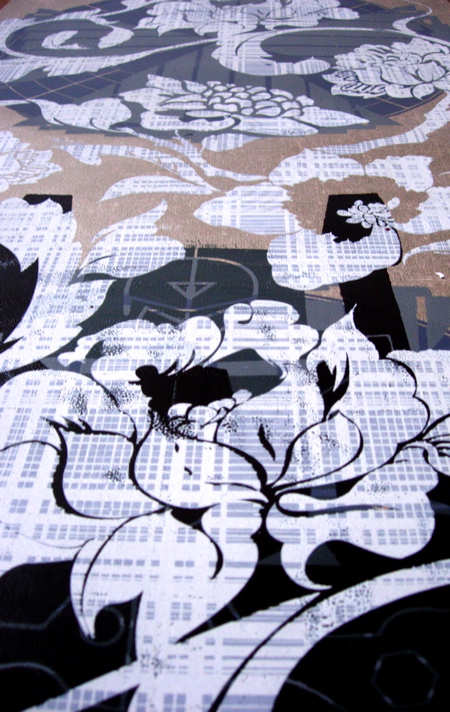 Textile design, technology and tradition all come together in the gorgeous designs by Linda Florence. Her works incorporate laser-etching, screen printing, flocking, foiling and a variety of other techniques that push the boundaries of pattern design. Having earned her Masters in Design for Textile Futures at Central Saint Martins College of Art and Design in 2005 after her Bachelor of Design Printed Textiles at Duncan of Jordanstone College of Art and Design in 2003, Florence is now running a London studio providing private residences and luxury retailers with one-of-a-kind wallpapers, flooring, and installations.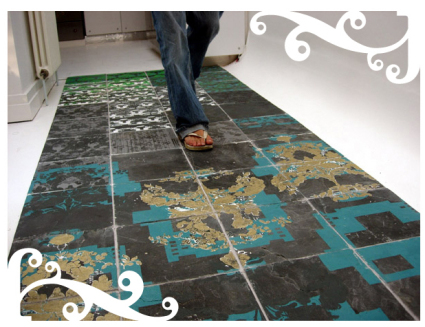 My intention was to contact Ms. Florence for an interview, but Lachlan Blackley, author of Wallpaper, did such a good one that I decided just to post a selection here. To read the full interview, visit the FAQ page at LindaFlorence.
What do you do?
I design and hand print wallpaper. I trained in textiles but now work in print and illustration. I design my wallpapers and print them to order for clients. Printing my own papers allows me to personalize each project and change colours to my customer's request. This also allows make the designs change across a room working with the architecture. I also design specifically for one off projects. I have designed wallpapers for Ted Bakers shops world wide. On some of the projects I have printed the wallpapers and on others designed the patterns which are then laser cut for use inside and outside the stores.


What would you say are the main influences on your work or style?
Where do you draw inspiration?
Everything and anything; my work is a collage of pattern and shape from around my life.  I have always been attracted to patterns. I love gathering scraps and finding new textures and materials. My imagery includes traditional Morris. I love drawing in the V&A archives, maze patterns, Bridget Riley paintings and also imagery from my childhood like Space Invaders and Pac Men.
What inspired you to work with wallpaper?
What is it you like about this medium?
The size is so exciting — you don't run out of space, you just add another strip. You can make grand scales that are viewed from across the room and tiny images which can be explored close up. I have scratchable papers, which were inspired by picking at puffy wallpapers as a child, and wallpapers that have flock and foil on them, mixing textile fibres with matt papers and foil surfaces.


What do you always notice or look for when you enter a space?
The floor and the pattern, whether it be a designed pattern or simply one caused by the objects or materials in the room. I created a lot of flooring tiles and wallpapers which joined to the floor on my MA at Central Saint Martins. It is an area not a lot of thought goes into when a space is being designed but can have a huge impact on how we perceive and move within the space.


For you, is wallpaper art or decor? Or both?

Both. I think the changing of materials and the bespoke hand printing of the work means it's like art work in some ways. It's inspired by the world around me and the constant bombardment of information and inspiration. The use of different materials in the wallpapers and the 3D elements also differentiate it from being just a decor pattern.
Evident from her scratch-surface papers and flooring, Linda executes her patterns in a way that invites interaction. A truly incredible example was her sugared floor for the Victoria & Albert Museum this past winter.
The 'One of a Kind Tea Dance' featured a ballroom floor with a floral print constructed in sugar. The performers danced on top of the sugar creating swirls and blurs in the pattern.