With winter on the way in the Norther Hemisphere (summer approaches here in Australia), why not keep your neck warm with a little laser cut typography?


Little Factory produce these microfiber suede scarves available in Uppercase or Lowercase and Numbers styles, in off-white or black.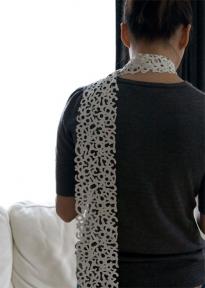 Based in Hong Kong, Little Factory started as a design website focusing on pixel graphics. They shared their ideas with others by offering free downloads such as icons, wallpapers and screensavers, with works have been published in books and magazines and won several awards.
Also check out their sweet bed spreads available in Tree, Tomato, Goldfish, Rain or Animal.