Manuel Castells is one of the world's leading thinkers on the new information age, hailed by The Economist as "the first significant philosopher of cyberspace."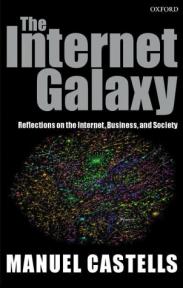 Castells believes that we are "entering, full speed, the Internet Galaxy, in the midst of informed bewilderment." His aim in this exciting and profound work is to help us to understand how the Internet came into being, and how it is affecting every area of human life–from work, politics, planning and development, media, and privacy, to our social interaction and life in the home. We are at ground zero of the new network society. In this book, its major commentator reveals the Internet's huge capacity to liberate, but also its ability to marginalize and exclude those who do not have access to it. Castells provides no glib solutions, but asks us all to take responsibility for the future of this new information age.
The Internet is becoming the essential communication and information medium in our society, and stands alongside electricity and the printing press as one of the greatest innovations of all time. The Internet Galaxy offers an illuminating look at how this new technology will influence business, the economy, and our daily lives.
One of the significant features of the book (published in 2001 before the September 11 attacks and around the time of the dot-com bubble) is the inclusion of the e-Links section at the end of every chapter. Each e-Link is given as a URL, followed by a short text of one or two lines to describe the content.
how very 2.0