Kyleakoch has given the gift of a steady scan to all of the lucky iPhone owners around the world..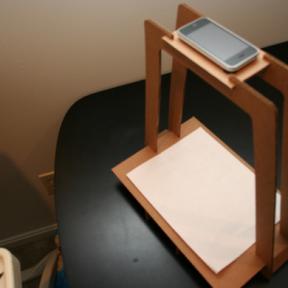 Simply follow the instructions on his Ponoko store page, and you are on your way to having your own iPhone scanner. By downloading the product plan you will pay ZERO for the intellectual property, this means you only pay for the materials and manufacturing time. Kyle has also been generous enough to supply the plans with the sharealike creative commons license, so you are free to to Share – to copy, distribute and transmit and adapt the design as long as you attribute the work to Kyle.



Bargain
REAL LIFE DIMENSIONS OF THIS PRODUCT WHEN ASSEMBLED
15.5in long x 9.5in wide x 15in tall
THIS DOWNLOAD INCLUDES 2 DESIGN FILES
There are 2 design files included in this download that make up 1 iPhone Document Scanner:
1) iPhone_ponoko.eps
2) iPhone_ponoko2.eps
MATERIAL TYPE, THICKNESS AND SIZE YOU SELECT TO MAKE THIS PRODUCT
Each of the 2 design files uses the same material, just in different sizes:
1) MDF, 4.75 mm, 15.1in x 31.1in
2) MDF, 4.75 mm, 15.1in x 15.1in
Kyle A Koch is an industrial design student at the University of Cincinnati's school of Design, Architecture, Art and Planning (DAAP). He is currently working on point of purchase displays as a structural designer.
Rock on Kyle, now all I need is an iPhone..