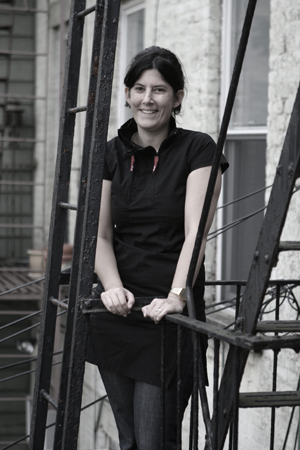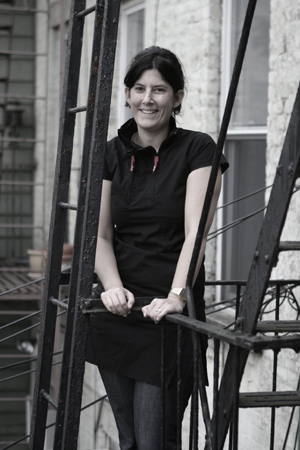 Alissia Melka-Teichroew is a multi-disciplinary designer and founder of BY:AMT Inc. Her work has been featured in several international publications, and I'm pleased to bring her work and words to Ponoko readers.
Me: My first question is – why industrial design?
AMT: well actually it was first Human Geography at the University of Utrecht, then after a while I realised that this was not what I wanted to do for the rest of my life. After visiting a friend at the Design Academy Eindhoven in the mid nineties, I realised that this was something I wanted to do. I applied to the Design Academy Eindhoven, but was sure I would never get in since it was extremely hard to get in at that time. But i did!
That was the beginning.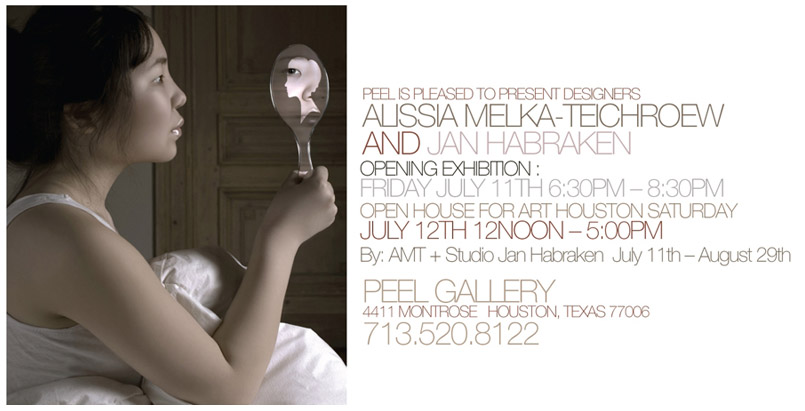 Me: Last month was the opening exhibition in Houston of By:AMT and Studio Jan Habraken. Was this the first time you and your husband collaborated on a show?
AMT: Actually we have done many shows together, and it is how we really met. In 2004 we showed (when he and his partner still formed WATdesign) at the Milano Salone del Mobile in a large group exhibit (TuttoBene). After that we stayed in touch. Over a year later, WATdesign and I discussed distributing some of their work here in the USA. Again they were preparing a presentation in Milano during the Salone del Mobile, this time on Via Tortona called MadEindhoven and they asked me to join, which I did. After this Jan and I became a couple.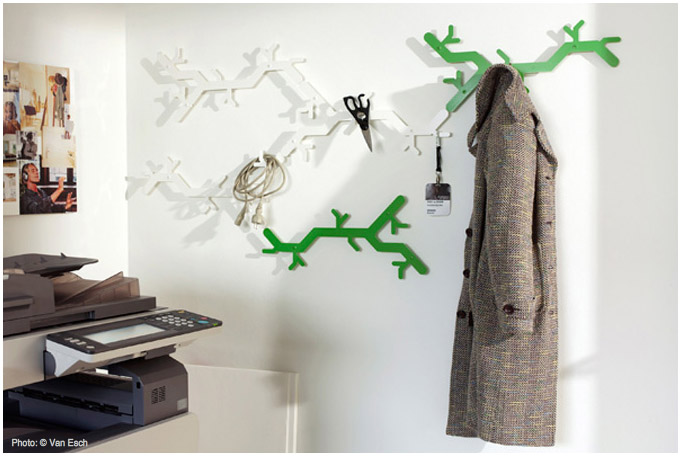 Our first real collaboration was for our wedding invitation and after that the TreeHooked Coat rack system (manufactured by Van Esch, The Netherlands). We have also been working collaboratively for other clients like BLIK, Kikkerland, and Kwantum (department store in The Netherlands).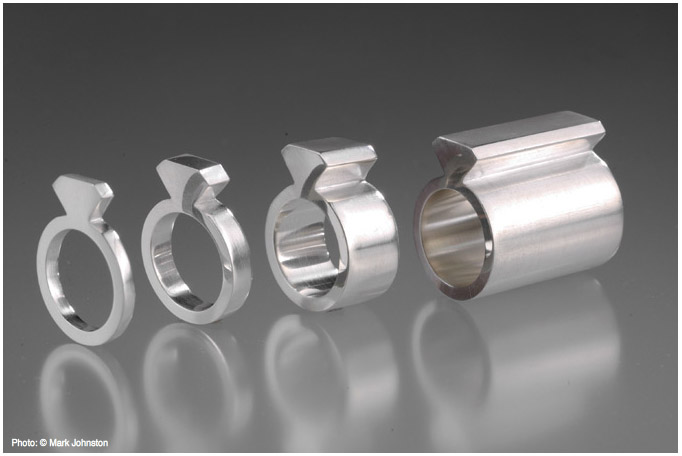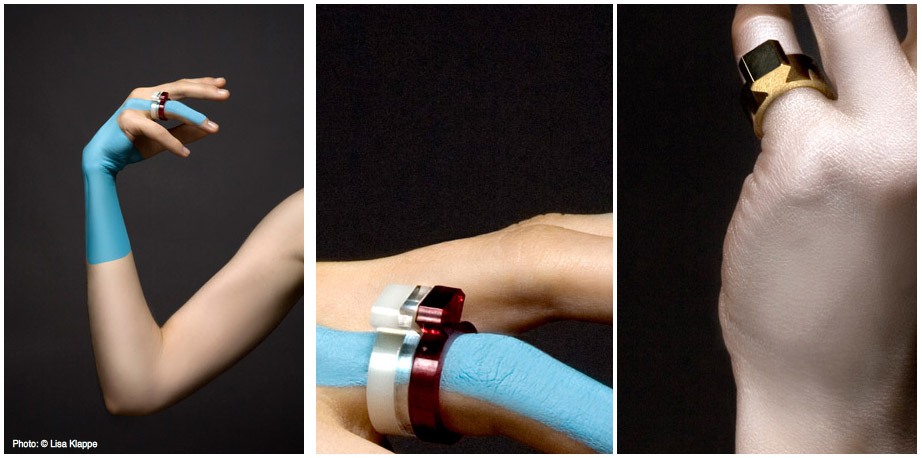 Me: Speaking of significant others- your diamond ring series seems playfully subversive; did you intend any commentary with this design?

AMT: When thinking about a diamond ring, I always wondered if one, I would want one myself and two, if the diamond itself really meant anything to me. I also liked the thought of creating accessories that are not really made out of the material they were first intended in (diamond ring, pearl ring, pearl necklace, watch, medals of honor, prize ribbons, lockets etc). When working on the Diamond Ring and Pearl Ring in Silver, I really wanted to create the different widths to make the idea of a diamond ring even more questioned, is a 2mm silver diamond ring just as valuable as a 9mm silver diamond ring? Or do we need the 25mm silver diamond ring to prove that we're in love and will stay with someone forever.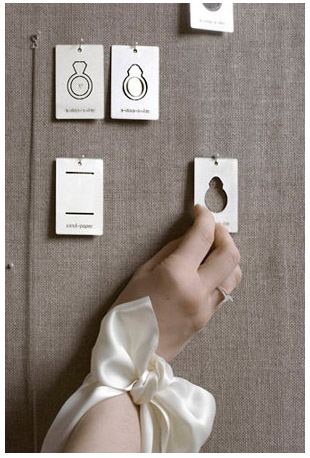 above: photo by Lisa Klappe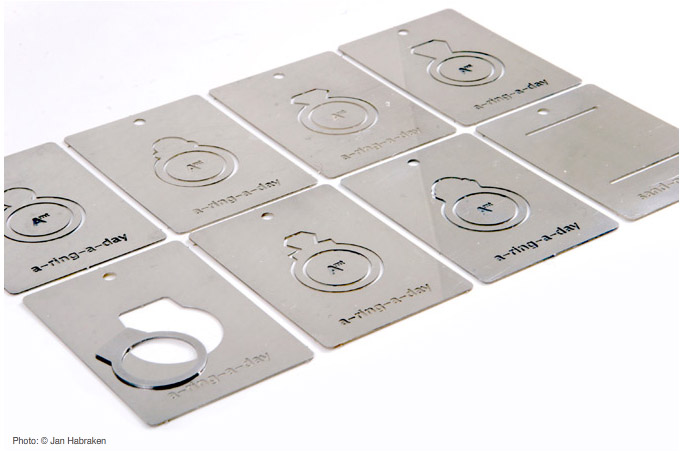 Me: Another ring in your portfolio, and one of my favorite ideas is the Ring a Day. I especially love the idea that the metal sheet, the excess of the product, is technically more valuable than the object itself. What gave you this idea, and when can people get it?
AMT: The Ring A Day series was created while at IDEO in 2004-2005; we were asked to do our own Point Of View Piece. One of the things I wanted to play with was perceived value of objects as well as the lack of emotional value industrial products have at this time. Jewellery of course is very often still connected with an emotional moment and thus not really comparable to an Industrial product. However, I thought it would be interesting to make a piece of super thin silver jewellery (the Ring A Day series) to emphasise the fact the the ring you pop out and wear is so much less valuable than the piece you leave at home and hang on your wall. The question is, does this really matter? Since the ring you are wearing tends to be emotionally the most valuable.
However by hanging the left over popped out sheets on the wall like little paintings you create a more nostalgic piece, it's like collecting baseball cards or images of your favourite band, etc. This nostalgia makes this piece versatile in it's use and emotional value.
At this time I have not manufactured it for sale yet, I am still debating if I should make them out of other metal to make it more affordable, since Silver is very very pricey at this time. Hopefully, plans will be made early fall to figure this out.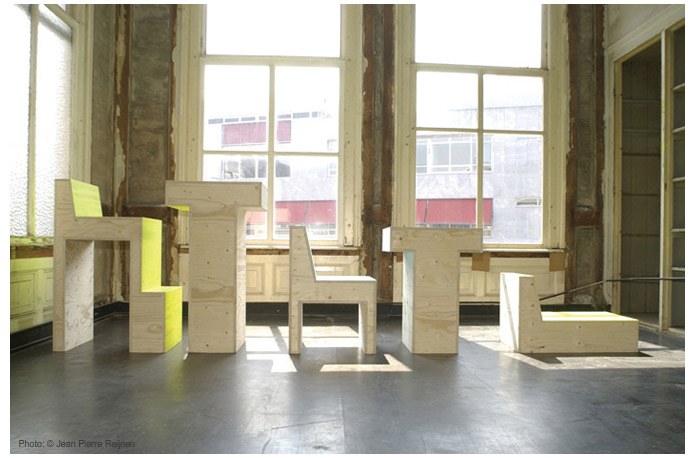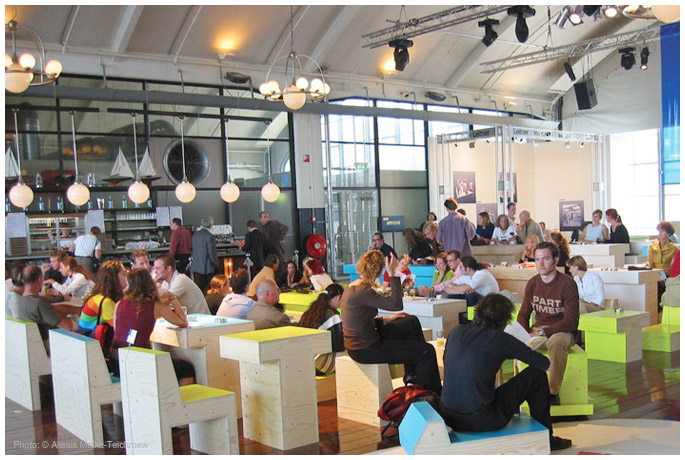 Me: The other of my favorites is the Bleachers furniture for 100% Design. Can you talk a little about that project?
AMT: We were commissioned by Reed Exhibitions for 100% Design Rotterdam to create a lounge area by the bar in the Terminal building. It's an old cruise ship terminal building with a beautiful wooden floor, and we wanted to make a lounge that would pop in that space, yet not compete with all the wooden ornaments and floor. Since a lounge/eating area is meant for everyone, young and old, we wanted it to be like a playground. Instead of designing the playground itself, we designed the Benches that are often around the playground. By setting them up like bleachers and not having the playground part in the middle, people were looking at each other instead of at something happening in the middle. By creating extruded furniture people had to be creative in how they were sitting together. Some people sat alone (chair + table only 50cm) others with 2, 3 or 5.
By creating benches that were facing one way, the public starting being creative in how they used the furniture, like turning it around and creating their own seating area; sitting together with people they didn't know; sitting on the seat backs on the other side of the table, which were the same height as a the seat on the other side.
Also the rocking stools were a success, young and old rocked on them all day.
Me: Will there be more furniture from By:AMT?
AMT: Working on that at this moment. Small products are always easier to get out into the world, which is why we've been focussing on that first.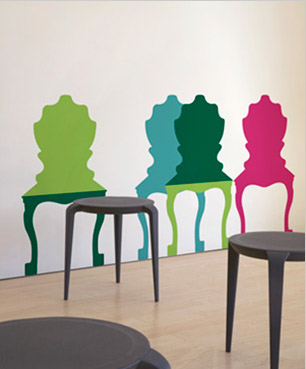 Me: And there's a promise on your website that new products are launching this Fall. Can you give Ponoko just a taste?
AMT: Blik Surface Graphics just released a line (in 3 different sets) of Vinyl Wall Stickers of ours. Also a liqueur glass will be added to the InsideOut Collection manufactured and distributed by Charles & Marie. The rest we're still working on.
above: Inside Out Collection; newest design on the left
Me: Finally, when I read your bio I couldn't help but be a little jealous of all the places you've been and lived. Is there any place that you absolutely love and would recommend to visit?
AMT: Well, of the places I have lived, I love Paris the most and can always recommend it. It's always beautiful even when it rains! How many places can you say that about?
But of the places I have travelled to, I must recommend Israel; a beautiful country, so many different landscapes in one small country, as well as great great people. Moscow (however many things have changed since I was there), if you go, get to know someone there before you go to show you all the good stuff. Inverness, Scottland (when it's summer and sunny) was beautiful as well as great music, quaint.
Then there is London; there is always something to see or do. And I think Berlin is a great city to go to and just walk and walk and find all these great corners with stores, galleries. There is so much happening over there.
Still have never been to an endless amount of places and very much looking forward to travelling more again in the future.