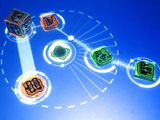 The reactable, is a multi-user electronic music instrument with a tabletop tangible user interface. Several simultaneous performers share complete control over the instrument by moving physical objects on a luminous table surface. By moving and relating these objects, representing components of a classic modular synthesizer, users can create complex and dynamic sonic topologies, with generators, filters and modulators, in a kind of tangible modular synthesizer or graspable flow-controlled programming language.


This instrument is being developed by a team of digital luthiers (Sergi Jordà , Martin Kaltenbrunner, Günter Geiger and Marcos Alonso), at the Music Technology Group within the Universitat Pompeu Fabra in Barcelona, Spain.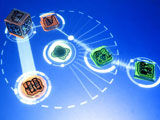 You may have heard/seen it used by Bjork during her current "Volta" world tour.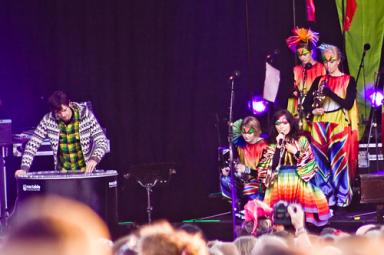 The reactable intends to be:
collaborative: several performers (locally or remotely)
intuitive: zero manual, zero instructions
sonically challenging and interesting
learnable and masterable (even for children)
suitable for novices (installations) and advanced electronic musicians (concerts)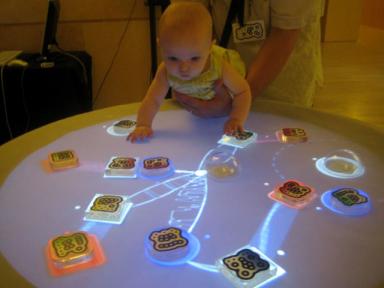 Importantly for Ponoko type people, reacTIVision, the software driving the reacTable is an open source, cross-platform computer vision framework for the fast and robust tracking of fiducial markers attached onto physical objects, as well as for multi-touch finger tracking. It was mainly designed as a toolkit for the rapid development of table-based tangible user interfaces (TUI) and multi-touch interactive surfaces. This framework has been developed by Martin Kaltenbrunner and Ross Bencina at the Music Technology Group at the Universitat Pompeu Fabra in Barcelona, Spain as part of the the reacTable project, a novel electronic music instrument with a table-top multi-touch tangible user interface.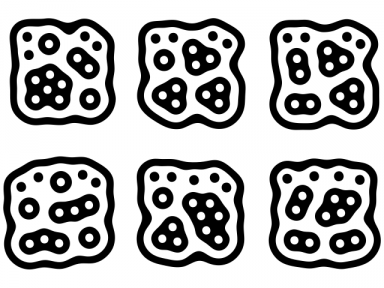 Rock on..