In the spirit of Ponoko's latest design challenge, I interviewed jewelry designer Melissa Borrell. She explained her work's evolution from sculptural to drawing-based, her recent fascination with shadows and how a move from the West Coast to the East Coast inspired the Fantasy Shade.


Me: I read on your bio that you attended the School of the Museum of Fine Arts, Tufts, and grad school at RiSD. Were there any other directions you explored at school besides jewelry?
MB: I worked in lots of different media in school – drawing, painting, ceramics. I didn't start focusing on jewelry until after undergraduate.
Me: What made you want to be a jewelry designer?
MB: I was always interested in three dimensional art, but particularly functional art. For me, jewelry is functional but also very much about interaction. You can't touch the pieces you see in a gallery or museum, but you have to touch the jewelry. I want people to touch what I make.

Me: Speaking on interaction, in a lot of your work there's a change in form from when the jewelry is at rest on a surface to when it is picked up and worn. Do you start your designs with that movement in mind or do you start with form and explore how that particular form moves?
MB: It depends on the piece. With my recent Pop-Out jewelry, it starts with form. I start to figure out what kinds of shapes layers best, and strategically work with the form in that way.
However, some of my earlier work really focused on movement. With my grid earrings, I didn't even know that I was going to make earrings, I was just experimenting with the mechanics of movement.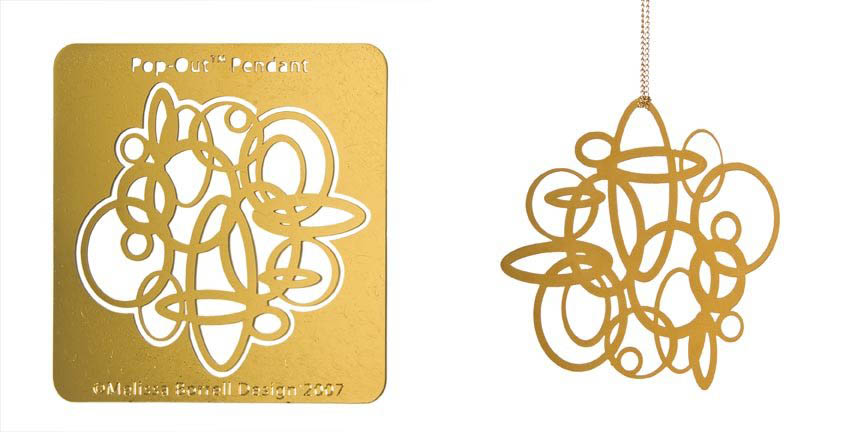 Me: Can you talk about your Pop-Out jewelry more. What gave you this idea?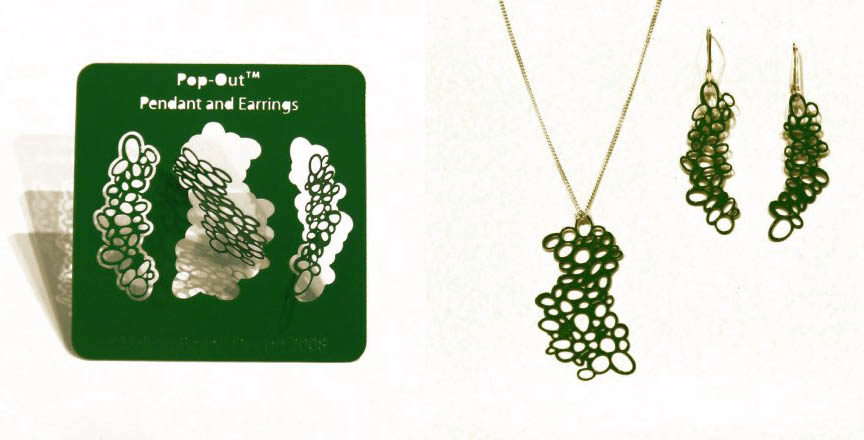 MB: This really gets back to jewelry being about interaction. By physically taking the pendant out of the card and putting it on a chain, that person becomes part of the process. The Pop-Outs are very much about interaction, layering and line.
Me: Maybe the strongest link between designers/artists and the thing that really sets creatives apart, I think, is drawing. You mentioned line, and one of my favorite things about your work is how many of the designs are like 3D drawings. How prominent is drawing in your work and life in general?
MB: Drawing has really been the evolution of my work. My early stuff was 3D and very sculptural. Then, I did a topography piece directly influenced by drawing. All of the Pop-Out jewelry starts out as hand drawings.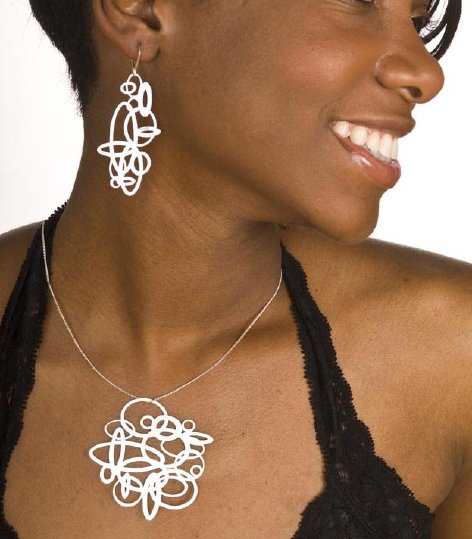 Me: Do you use laser cutting in any of your work?
MB: The original prototype for Pop-Out was laser cut rubber. Also, the bases of my lamps are laser cut acrylic.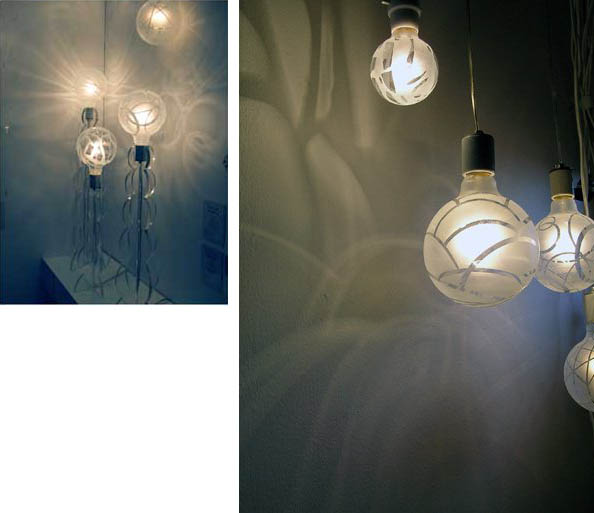 Me: I can see how the Shadow Lamp relates to jewelry design, but your other product, the Fantasy Shade really seems like a departure in terms of function, material and aesthetic. Can you talk more about that?
MB: I have become fascinated by shadow, and that's really what ties it all together. My jewelry usually has open networks and spaces. In photographing my work, I started noticing these really interesting shadows that would change with direction and with layering. That was the inspiration behind the Shadow Lamps – was just to explore light and shadow.
And then with the Fantasy Shade, I had moved to Brooklyn from San Francisco and really missed the scenes- the trees, the Golden Gate Bridge. I wanted to capture that feeling of, say, trees outside your window. So all of the Fantasy Shade prints are personal photographs.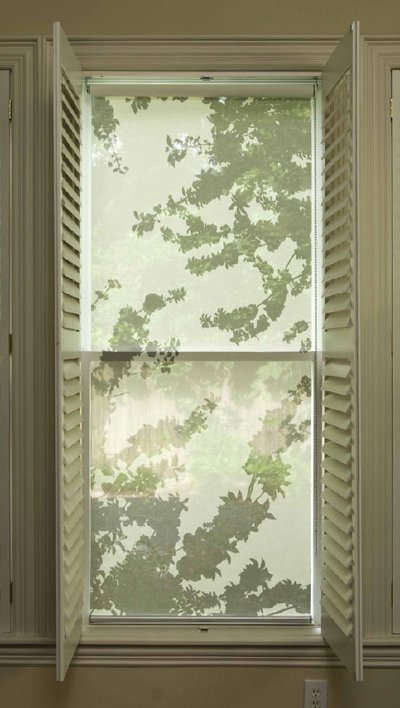 IMe: Your Pop-Out jewelry, the Shadow Bulb and the Fantasy Shade are all available at the Supermarket online store, and your work is also available at a variety of museum shops and boutiques. In terms of sales, do you find more success with Supermarket or in physical retail?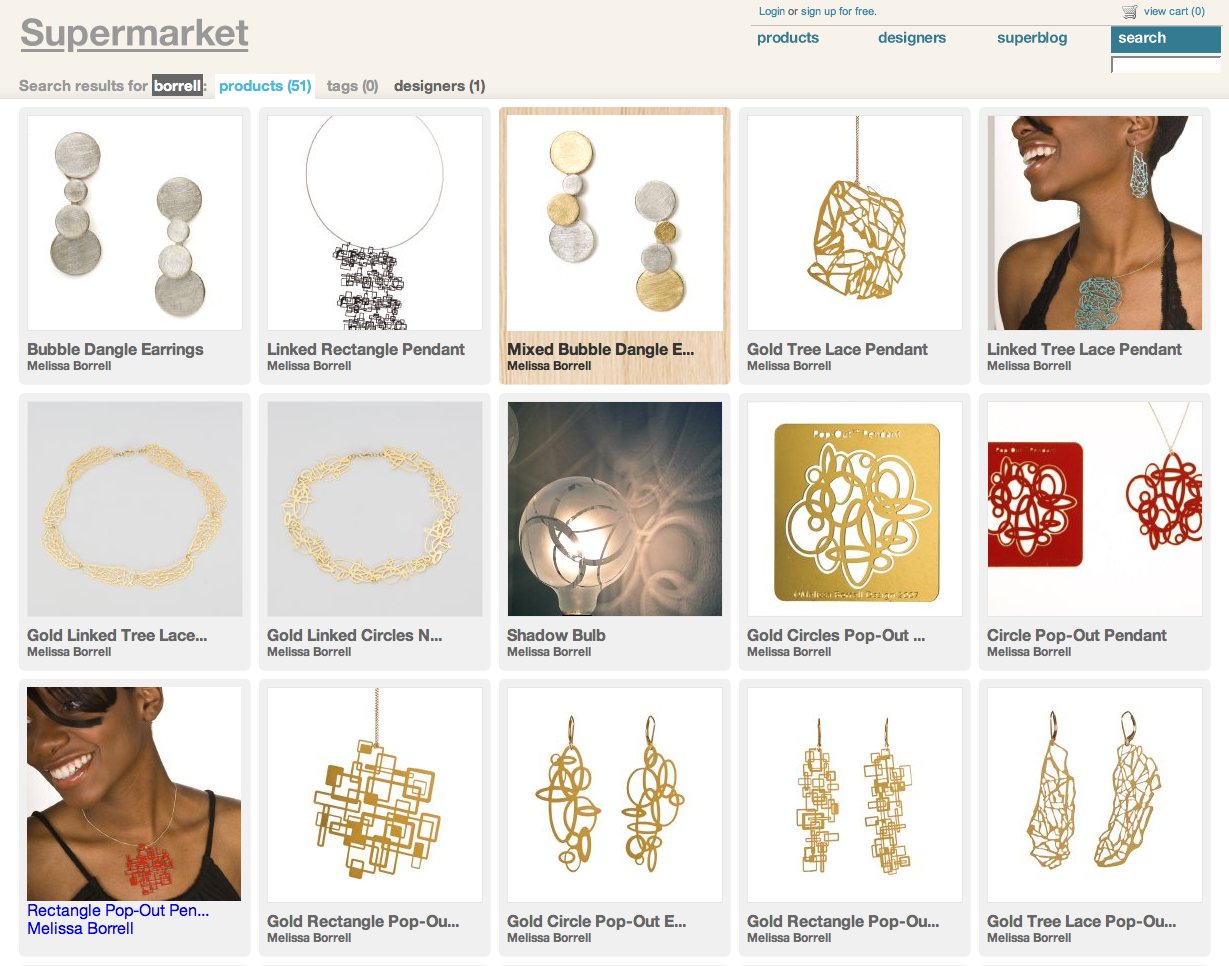 MB: My business focus has always been wholesale to other retailers. Supermarket contacted me about selling there, and I thought it was a great idea. It also gave me a way to link to a store from my website. But physical retail stores are definitely still where my business success comes from.
Me: One last question – If money was no object, what one project or piece would you most like to do?
MB: I think it would be a large-scale sculptural piece. An interior piece, an installation.
A million thanks to Melissa. If there's a wealthy art patron reading, you should commission that installation! I've got more Centerviews with jewelry designers coming this month.
Good luck to all the finalists in the competition. If you haven't voted yet, click here and pick!