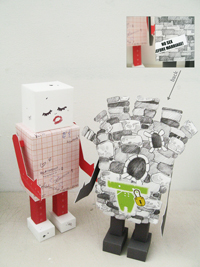 Continuing my partiality to papercraft as a good medium for open source design, an Instructables user named =SMART= has put up a project for building a papercraft Instructables-bot . For all you Instructables fans out there
Similar to Tandapants' Emotibots that i saw at the Glasgow School of Art Visual Communication show a couple of weeks ago. – Very simple papercraft robots for which she had distributed completely blank templates, asking people to decorate in response to an impetus printed inside the kit's packaging. She was also selling the kits at the degree show – a charming project as the audience has no idea what the inspiration printed on the packaging for each 'bot was, and I was left guessing for many of them! Some really creative work.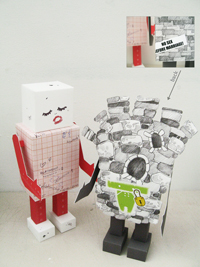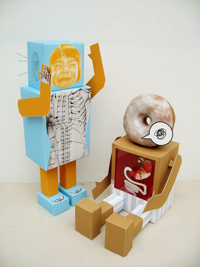 Tandapants was also showing some beautifully crafted cakes and pastries, stuffed as are soft toys, and carefully embroidered with felt. The overall effect was one of great tactility and perfection – the project arising out of a desire to synthesise personally relevant antidotes to homesickness, hence that homeliest of inventions: baking.
Tanda's synopsis follows in full after the jump:
"While doing research for my extended essay about designer toys, it became evident that the choice of material determines a toy's purpose. An action figure thus would not be as fun and play resistant if it was made out of fabric and cuddly toys featuring too many 'hard' parts are not as huggable as softer ones. Toys made out of card or paper suggest fragility but also versatility and invite to customise. With this in mind, I answered my own brief by creating two different pieces, one based on soft toys, the other on customiseable paper toys.
The first part of this project originates from the time just after the hand-in of my extended essay. As always when one is stressed and exhausted, there was a great lack of sleep and food, which can sometimes result in temporary emotional instability…for girls in particular. Inspired by those needs, I created a hybrid of comforting soft toys and 'comfort food'. This started with a not so comforting dish (Japanese tofu with fermented soy beans) but quickly took the shape of baked goods, such as cake and bread. My hand stitched felt-food, however, only had a vague context, since it could be applied to various situations. The initial scenario I chose was an academic one: the toast and cupcakes were to 'comfort' over issues related to school/college. For my final piece, I then added a self-portrait in the form of a crying cake and put my pieces in a homesickness context, since this is a feeling, which has developed over the past 2 years and has been getting stronger consistently. The meal served, consists of nothing but sweets and is an exaggerated representation of binge eating. I complemented the piece with a picture of the town where I was born. The lightness in colour and the way it is cropped, are meant to suggest an imaginary scene, they visualise what the cake is thinking.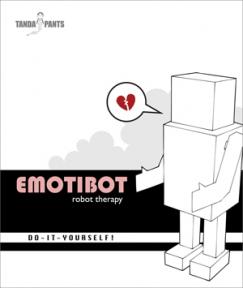 Part 2 (EMOTIBOT) of this project was directly inspired by current DIY designer toys, which are sold blank and can be customised. Since the overall project was based on emotions, growing up and relationships I wanted to created a DIY figure, which was to deal with these subjects. Since paper, as mentioned above, suggests fragility and is easy to customise, it seemed like the right medium for this part of the project. After several tries and a couple of different prototypes and colour variations, I decided on a blueprint for a DIY figure, which I had decided, should take the shape of a robot, since robots are generally machines in humanoid forms, which, unlike real people and their emotions can be mended easily when broken. Furthermore, this shape allowed for easy assembling thanks to the simple box-like components. I then customised 5 figures in order to give some inspiration and simultaneously test whether the blueprint could be assembled correctly. Once I was done, it took me a while to think of a name for the product. Existing DIY figures all had names, which despite their blankness turned them into characters. Examples included Kidrobot's MUNNY, Medicom Toy's Qee figures and UNKL's Unipo. Eventually I simply combined the words 'emotions' and 'robot', '~bot' being a popular ending of many robot inspired toys (Mimobot, IceBot, etc.) Emotibot – robot therapy was now a paper based DIY figure, which was to serve a similar purpose as writing down your thoughts: to bring some order into thoughts emotions and gain more clarity by putting them into words – and in this case into a 3D object. Simultaneously, one could see Emotibot as a form of distraction, since it requires concentration to assemble and customise. To keep this within the subject, I added different instruction on the inside of the packaging flap which would set specific tasks/themes for customisation, i.e. "Describe your current relationship status". This also added a 'surprise egg' or 'blindbox' factor to the product, since each envelope contained a different task. The packaging itself, was my first ever experiment with graphic design and as such was a little bit of a challenge. I also realised the importance of material, since my first choice (a glossy kind of paper) would break due to its onesided stiff coating. Due to lack of time, the material used for the final pieces was then matte laminated paper."