Afrigadget is a blog "dedicated to showcasing African ingenuity" that was recently named one of Time Magazine's 50 Best Websites of 2008, quite an accolade. And it is indeed good, bringing forth all manner of ingenious solutions to problems from generating power from playground toys to mobile phone access.
Its great to see a blog bringing together news on projects from around the globe with an emphasis on appropriate technology – so often sites in this area are either just concerned with 'developed world' solutions or 'developing world' solutions rather than having a more collaborative interest – there are numerous hacks in evidence that are easily as applicable to life in, say, Manchester as they are in Nairobi, not least Jim Chuchu's 'controllable, consistent white light' for photographers.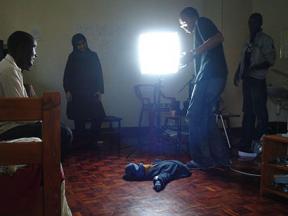 Jim's thoughts on Afrigadget puts it:
It's actually a very interesting blog, with lots of innovative DIY ideas by our fellow Africans. We're not only about drought and AIDS, it seems.
Quite. This is what excites me about shareable designs using the web – you get such a wider base of experience and invention than designing within a bubble – when we're all sharing our experiences, we can help solve each other's problems, as that conundrum you're battling with might already have been tackled ten times over in another corner of the globe. Hopefully this can lead to a more balanced world.via Core77.