Daniel A Becker's Barcode Plantage appeals to me as a good example of exploiting digitalism and computing in order to generate art and design. Written in the highly accessible Processing scripting language (designed specifically for artists and designers), Barcode Plantage is a neat little program. It takes a barcode and processes it using certain algorithms to create a tree-like image unique to the code, complete with key info such as country of origin and manufacturer. The program also plays you a momentary melody also based on the barcode chosen (for me, the program only seemed to work with certain of the random barcodes provided, so keep trying if nothing happens).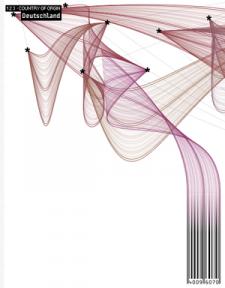 I love the idea of taking already-computed processes and using them to drive another – hence applying digital terrains to CNC'd bowls, vector face profiles to 3D printed candlesticks or waveforms to laser cut jewellery (using Ponoko). Its as if one is handing over creative control to the machine – we design the system that it operates, but from there on, the conception and synthesis of the end product is out of our hands and given over to a completely digital process.
The barcode example is particularly exciting as barcodes are a peculiarly tangible by-product of the information age: surrounding us, packed full of machine code, yet simple bars of ink and non-ink – one could write them oneself. As a source code they excite me almost as much as the ZX Spectrum tapes! Another great use of barcodes I came across recently was the Beats from Barcodes project, using a barcode scanner as part of a multitracking drum machine to generate beats in the supermarket!
I'd like to see what laser cutting .eps files can be automatically generated from barcode data!
via Core77