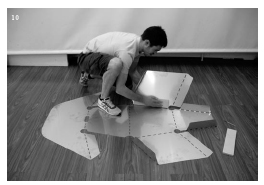 I was watching Wallpaper's curious videos on the Designer of the Future award winners, and was fascinated by one, that of Max Lamb.
Max looks like a chap that simply likes to make stuff. His video shows him turning a large piece of concrete into a stool. On a lathe. Delving into his own site further uncovers a man with an appetite for manufacturing processes and materials: learning them, exploring them and pushing them into new forms.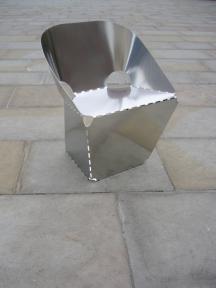 I recommend checking out all of his work but of particular relevance to Ponoko users is his Sheet Steel Chair. Simply fabricated from laser cut 1mm pre-finished steel, this chair seems a natural, inevitable descendant of its parent process. in his accompanying document Exercises in Seating [parts 1 & 2], Max describes how his perforations along bend lines were conceived to make assembly possible by hand, without the need for specialist machinery. The whole structure is fixed by simply two lengths of (hi-spec) double-sided tape: The epitomy of design for manufacture, that is manufacture by an unskilled person – this steel chair can be assembled by the user themselves.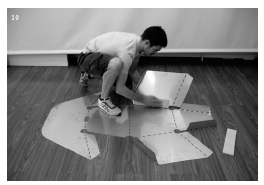 Max says:
"I liked the idea of incorporating an additional hand-process with which to reinforce the one-off or low batch potential of laser-cutting."
It is details like these that make the difference between designs that the user can embrace, and feel ownership of in a creative sense, and designs that exclude the user from the initial synthesis of the product and must be sold readymade – and all it comes down to is perforations.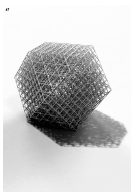 Enough raving about perforations. Max's Exercises in Seating was an exploration of 5 processes for making seating, one of which was rapid prototyping using SLS. Again, a beautiful synergy of process and form, he created an incredibly strong cuboctahedric wireframe structure despite being only a beginner in CAD.
Also noteworthy is the follow-up to the Sheet Steel Chair, the Rusty Sheet Steel Chair (not, I take it, from the same batch of material)!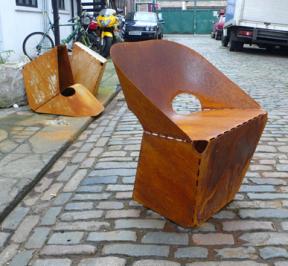 All images by Max Lamb