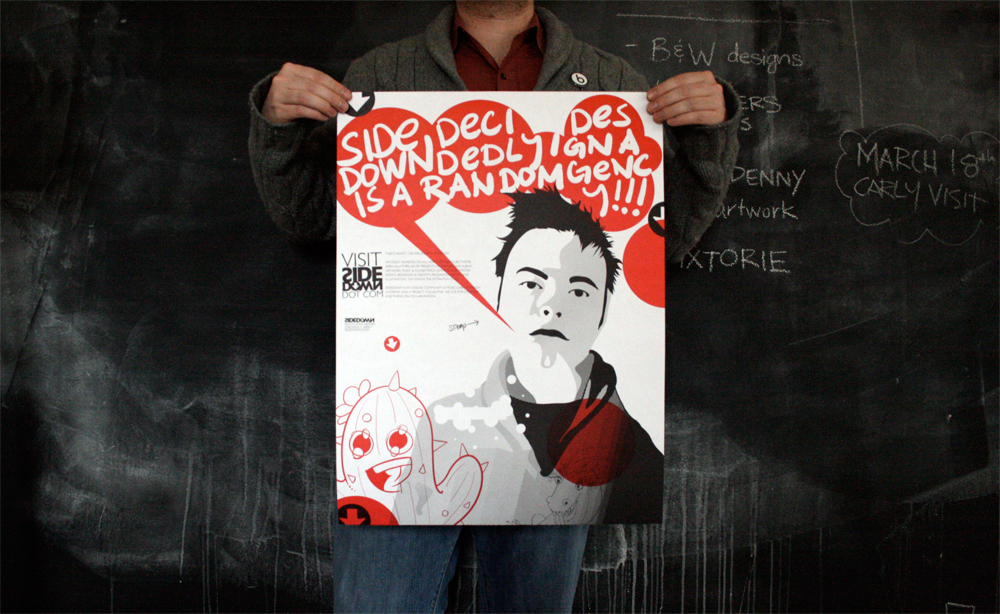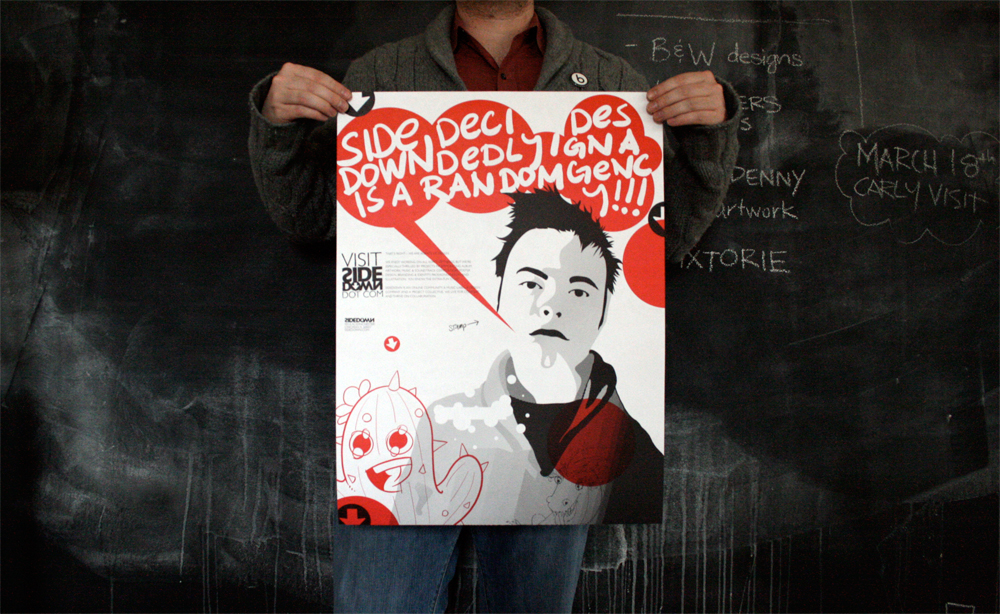 Sidedown is, in Joshua words, "a decidedly random design agency, music label, and collaborative project hub." Included in his mix of multidisciplinary design is a custom design service for digital prints. Recently back home in Chicago from all the Javitz fuss in New York, Joshua answered some e-questions on some of the company's many projects, being a designer in Chicago, and how he'd like to have a Steinway & Sons Model D Concert Grand piano.
::Before we get into Sidedown, can you talk a little about yourself? What's your educational, occupational and regional background?
Well, I was the typical "Army brat", never spending more than three years in one location, growing up. Over the course of 18 years I lived in five states and spent three years living in a small town in Germany. Moving all the time ended up being a great experience. I was fortunate to be in West Germany the year they won the FIFA World Cup, which also happened to be the year the Berlin Wall fell. Two amazingly different types of celebration that the typical American might not get to experience here at home.
I studied architecture at the University of Cincinnati. Their co-op program afforded me the ability to work as an intern in a bunch of different firms around the country. Small firms, like Design Partnership in Denver or Probst-Mason in Baltimore, showed me how great it was to work as a team, while larger firms like Gensler New York showed me that I probably didn't want to become an architect. Architects get to do great design, but they also spend a lot of time being managers. That managerial aspect was what pushed me away from architecture and into graphic and web design.
After graduating in 2002 I moved to Chicago and worked for the University of Chicago's web department for a while, before taking a full-time position at Fox & Obel Food Market, working on their in-house design and promotional material. That was fun for a while, but the company's structure changed a bit, and all of the sudden I had no budget and no creative director. That's a pretty bad combo; it basically meant that I spent most of my week doing nothing, with absolutely no supervision. I left there to spend some time freelancing for local clients.
Around 2005, a freelance job for the UIC School of Architecture turned into a full time job being their resident graphic designer. Working there, I got a chance to be part of the architectural discourse while still doing the type of work that I really enjoyed. I worked at UIC until February 2008, when I left to devote all of my time to build Sidedown into something more than just a freelance endeavor.

::It seems like Sidedown is a formalized/legitimate way to do almost anything you want, which is most designers' dream. So is the dream real? And how did you go about setting up this possibility for yourself?
Ha, yeah, that was pretty much the plan! I know a lot of designers who can work full days for someone and then come home and do their personal work, but I'm not that way. There was a sort of tipping point at which my personal work mattered more to me than anything else, and even my friends and family could see that, for the sake of my sanity, I needed to commit to formalizing Sidedown as a real company. In addition to client-based design services, I've also been working to develop product lines of all sorts in house, like regular publications, prints, apparel, and other fun things.
I've been using the name "Sidedown" since 2002 as my web presence for both my design portfolio and my collaborative blog site, so it was a natural move to make it the official name for my design agency. When I decided to do this full time, I already had a base of friends, clients, collaborators, and supporters. I didn't have to start completely from scratch, which would have probably been very daunting.
I'd say that the dream is real… though it's not without its stress and doubt. A regular paycheck is always great. I mean, it's probably the reason most people are working where they are now. But every day I get up and get to decide exactly what and how I'm doing things. Some days that means sitting behind the computer all day, and some days that means just walking around Chicago taking pictures and talking to people. I appreciate that freedom more than a secure cash flow.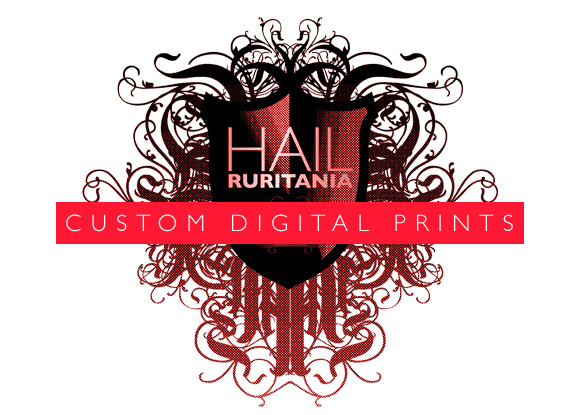 ::Can you talk a little about about Hail Ruritania and your customized work?
I try my best to avoid working in a vacuum; projects are more fun when there are some built-in parameters. I put together a collaborative book last year (Sidedown Monograph #1), and for fun included some pattern concepts that were built off of a ridiculously fance font called "Ruritania". These images got a very positive reaction from people, so this year I started making custom and one-of-a-kind prints based on this concept.
The basic idea is, if someone gives me a title and a dominant color, I will create a design implementing these things. For the custom prints, the buyer not only picks the color and title, but their name and a message is included on the print. This allows me to continue doing parameter-based client work, to exercise an almost improvised level of creativity and to give someone something that is guaranteed to be completely unique. The prints are digital, and use only three "tools": solid colors, geometric halftone screens, and Ruritania flourishes. Reducing the toolset to these basic movements allows me to have a quick turnaround, and to concentrate on the overall design of a piece, rather than trying to reinvent the wheel each time.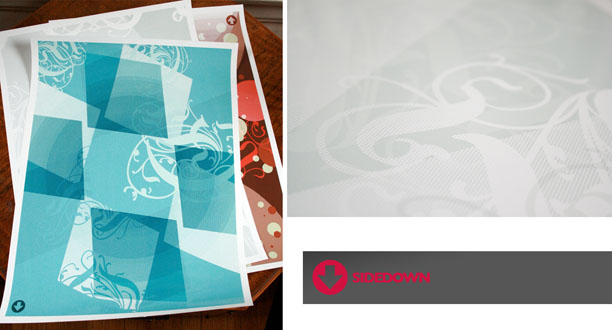 After a while doing the custom prints, I realized that some people are a bit shy when asking for things, so I also created the non-custom, one-of-a-kind prints. People can still get something unique to them, but they don't have to be as involved as they do in the custom jobs.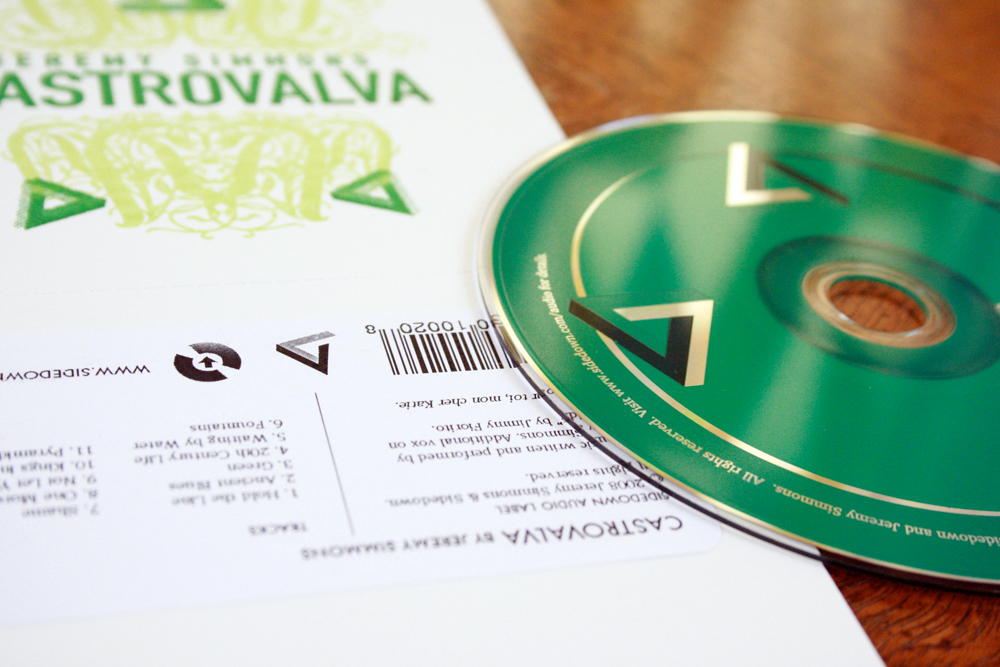 ::I got the word that you've started a music label. Tell us all about it.
I've always been interested in music. I've been writing and recording my own work since 1996, and I'm an avid collector of all forms and styles of music. Over the course of the last few years, I've met and befriended a lot of musicians who do it all themselves; They record in their apartments and dorm rooms, they play at their local coffee shops, and their music is incredible. High quality home recording has become surprisingly easy in recent years, yet most of these artists relegate their output to digital downloads, lo-fi streams, or cheap CD-Rs and black Sharpie. I decided that I want to promote my favorite artists, and that I want to give their work the well-designed product it deserves. On June 10th I launched the Sidedown Audio label, which is a boutique label (only releasing 4-6 albums a year) catering to solo, home recording artists. Each album will be a real-world product, professionally replicated, with handmade cover art that we design and produce in-house.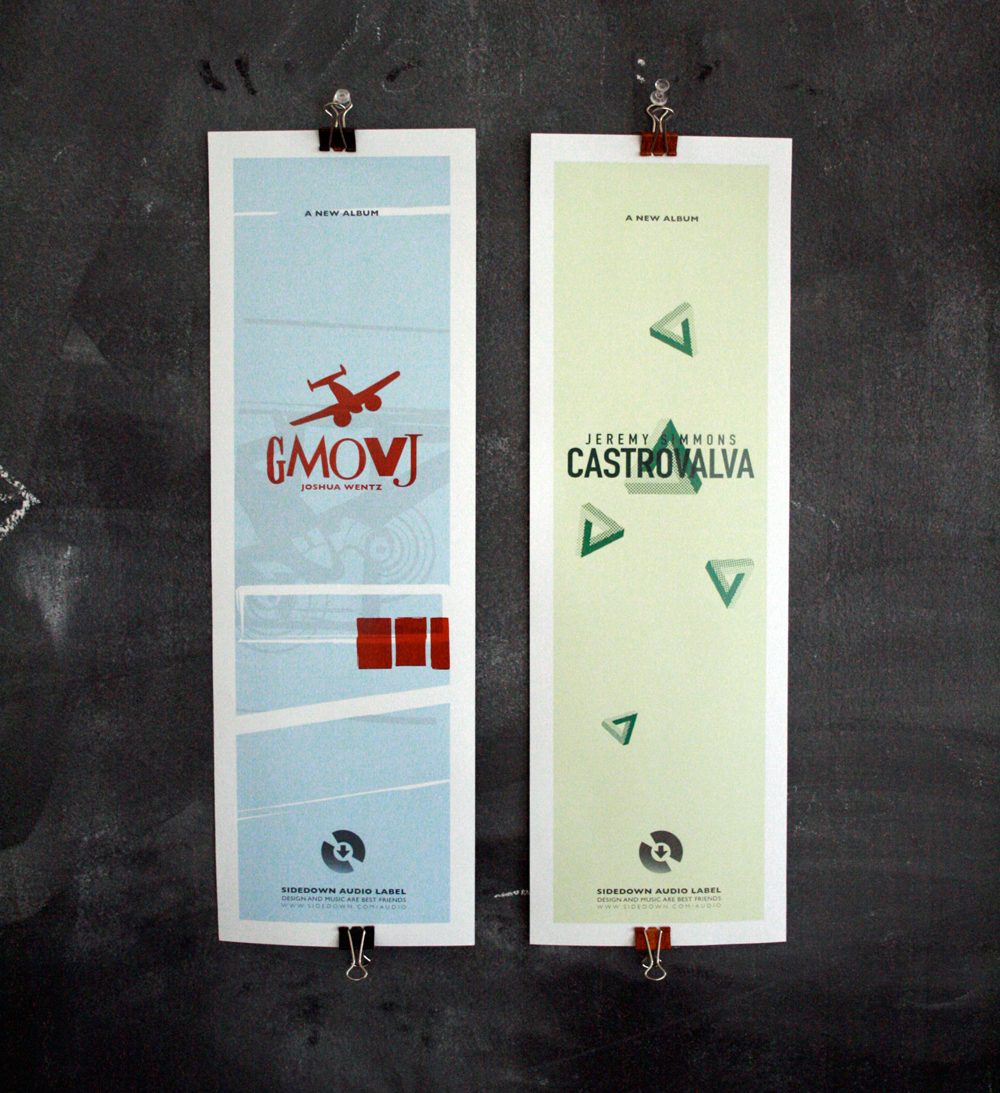 Right now everyone involved in the indie music discourse is talking about the power of digital downloads and the imminent death of the major label, but as a designer I think that it's a little misguided to assume that people are going to forsake material goods and big names. The ease of the Internet is fantastic, there's no denying that, but people like to use all five of their senses. Touch and texture are as important to music as the quality of sound.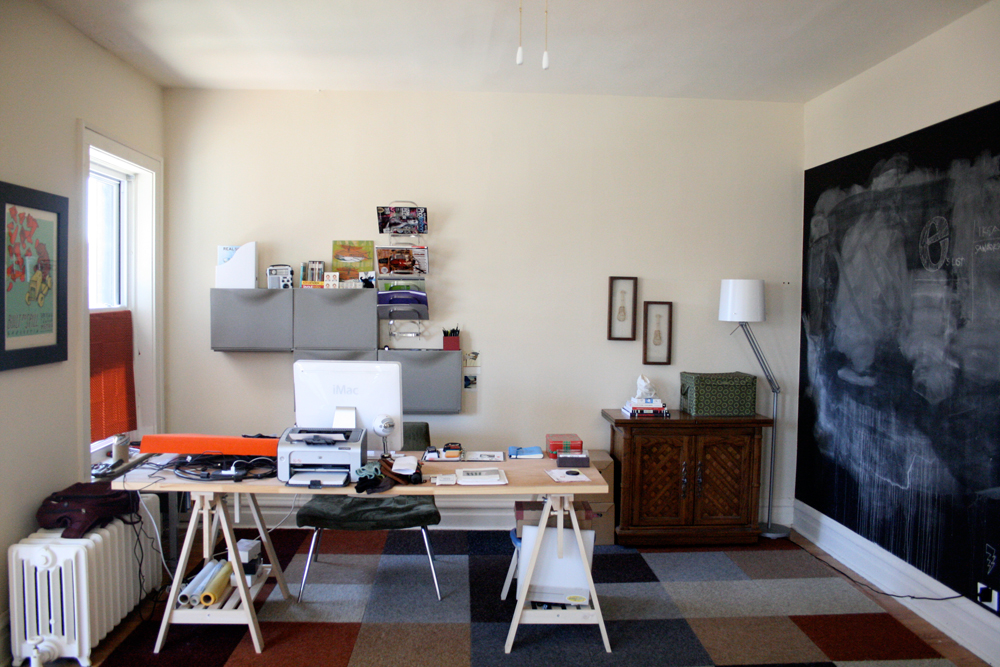 ::What is your physical space like? Do you have a separate office or studio?
Since this is the first year that Sidedown is full time, I'm saving money and working out of a home studio. I was a bit concerned about whether I'd be able to stay in "work mode" at home, but I'm lucky to live in a very spacious apartment. I commandeered our living room, a 13′ x 20′ space, as my office. We converted one of the three bedrooms into a recording studio, and there's still plenty of room for living with my girlfriend and our two cats. Having a space dedicated solely to Sidedown allows me to make a conscious divide between work and leisure; when I enter the home studio space, it is always to do work.
At some point in the future, I'd love to move Sidedown into its own space. More storage and fulfillment areas would be a boon right now.
::I came across Sidedown through Orange Beautiful's blog The Scoop. I know both of you are located in Chicago. I'm actually relocating there in September. To me, it seems like there are a lot of design savvy entrepreneurial kids in the city. How true are these impressions? How would you describe the design community there? And to what extent does your location in Chicago support or hinder your work?
Well, you're not going to have to look far to find great places, events, and communities that are built around design. I'd say that the abundance of quality design and art schools in Chicago is a primary contributor to the city's creative spirit. Chicago it a very positive, supportive place, in my opinion. I've lived here longer than any other place, due mostly to the energy and creativity of the people, the terrific architecture, and (something which most people don't like) the bitterly cold winters. Make sure you bring a coat with you!
The population of Chicago is close to the same as New York City, but it's spread over a much larger area. This low density can be a drawback when it comes to finding like-minded people to work with. I don't own a car, so when I want to visit an area like Wicker Park, which has completely different style than an area like Lincoln Park, it can be quite a trek. The other side of the coin is that because of the lower density, each neighborhood spawns its own small design community. My downstairs neighbor is an interior designer, and my next door neighbor owns an art gallery. There is always someone around who is connected to art in some way.
A lot of what I do is based around access to the Internet, so I could probably do a lot of my work from anywhere in the world. However, I really love collaboration and am inspired by the city I live in and the people I meet at events, concerts, and so on.
::And finally, a few pie in the sky questions –
If you had a bazillion dollars, what one project would you most love to do?
I would renovate the CTA — that's the public transportation system in Chicago. Get the trains moving, lower the price to ride, and of course Sidedown would design all of the advertising for train cars, platforms, bus stops, and so on. I'd love to make it so that only non-profit organizations could advertise on the CTA, completely for free.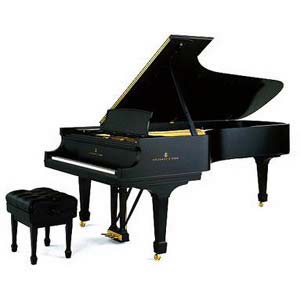 ::If you could have any one piece of gear or equipment currently in existence what would it be?
If you had asked me before last Christmas, it would have been a Wacom Cintiq, but I got that (thanks Emily!) Now it would have to be a Steinway & Sons Model D Concert Grand piano, for sure.
::If you could have anything made out of solid gold, what would you want?
I like to live modestly, so gold is never in the forefront of my mind. I'd love to have a few solid gold records hanging in my office, though!