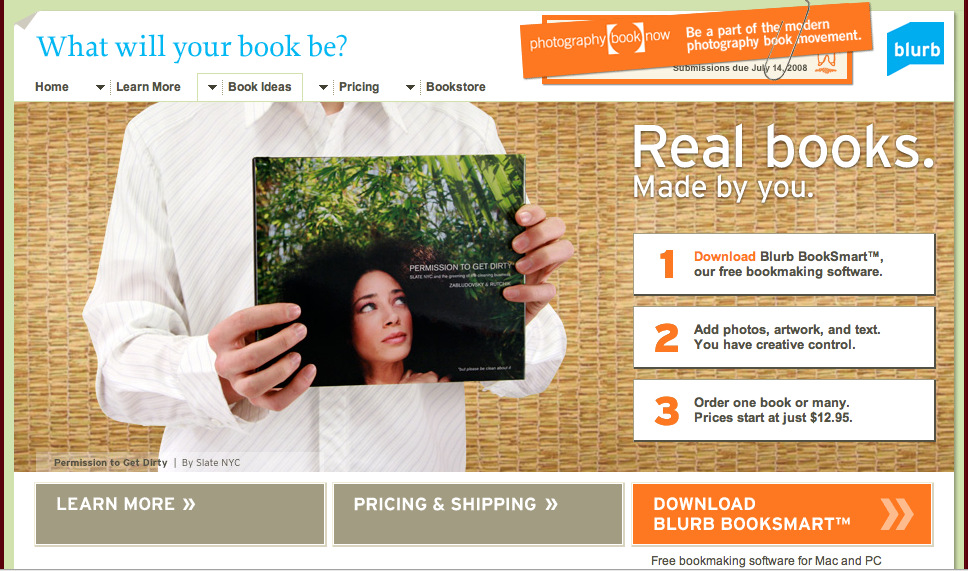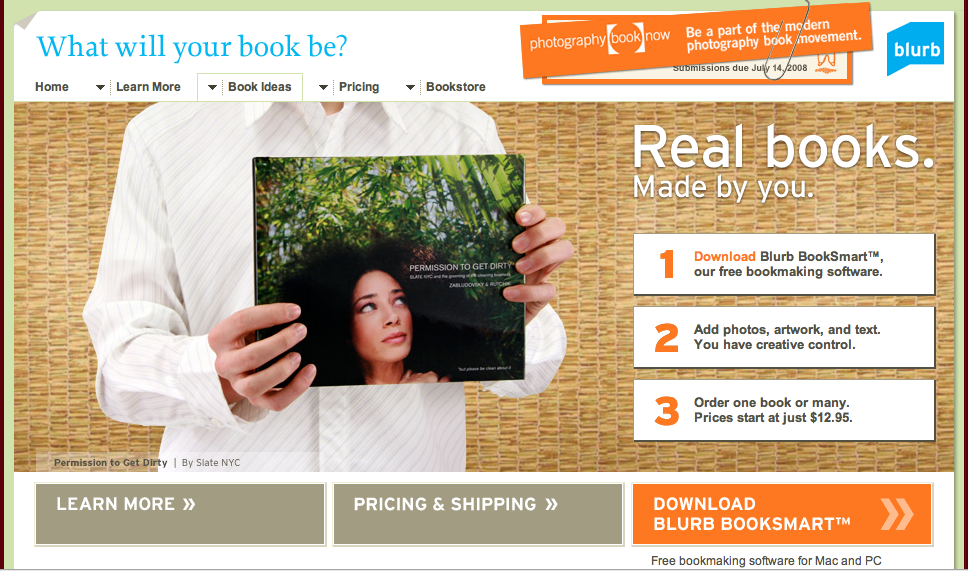 Here at Ponoko it's all about making it real. Blurb is to publishing what Ponoko is to laser cutting. This incredible site/store/service let's you upload any print based content you want and have it printed into a professional, quality book. So incredible, that it won this year's 2008 Webby Award for Best Service Website.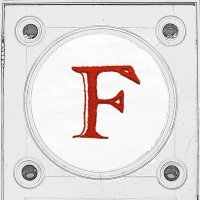 My first experience with Blurb came through my professor in art school. Our small graduating class of around thirty created a catalog for our senior show. Each student got a full spread and there were photos in the back. We ordered eighty 7×7 inch paperbacks at $12.95 and sold them at the show's reception for $20. We sold out in just over an hour.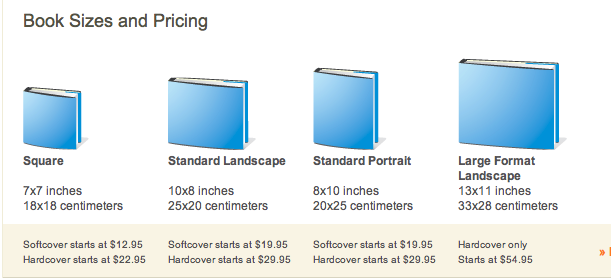 While we went with the cheapest option, there are four different book formats and both come in either softcover or hardcover. Just last month, Blurb announced ImageWrap – the ability to print a full-color, matte hardcover. Or choose the original black linen with dust jacket.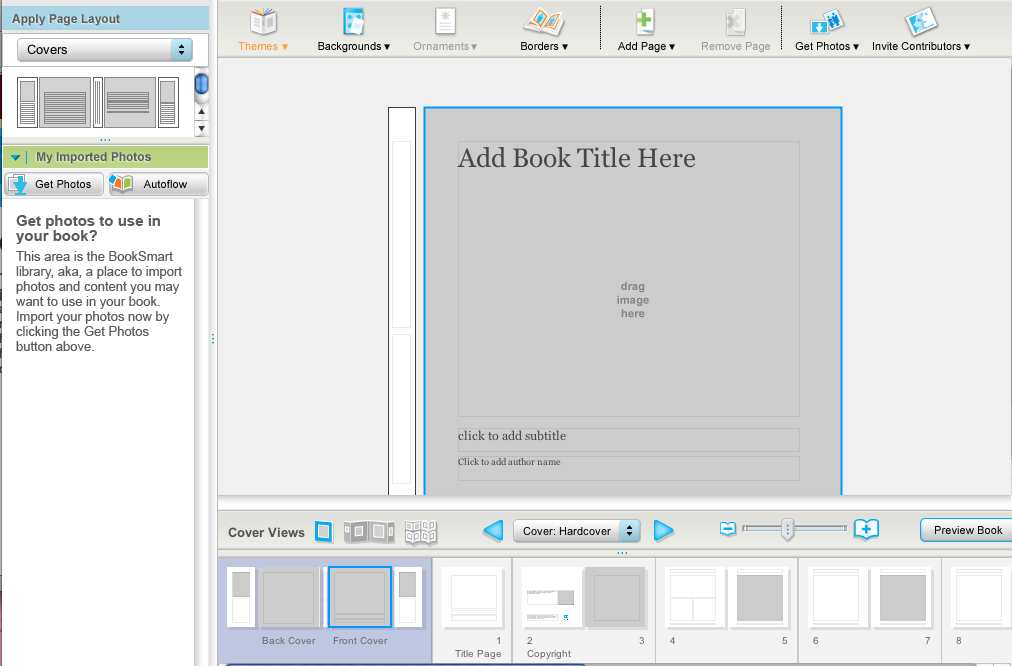 To start designing your own book you download their software called Blurb Booksmart. This super simple interface gives you a huge selection of different cover/jacket designs and interior templates to work with or you can go blank. There's an extensive list of themes and patterned backgrounds available, all of your essential fonts, a bank of icons and ornaments, and the RGB gamut of color.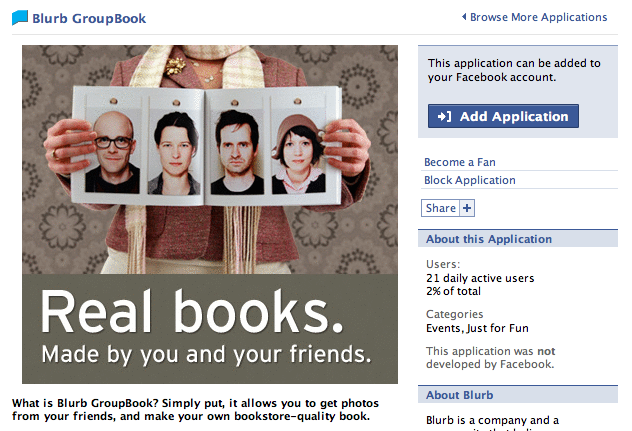 Photos can be uploaded from your desktop or from a list of social networking photo spaces like Flickr, Picasa and most recently Facebook. Blurb also allows collaboration on book creation with GroupBook. With GroupBook you can designate your friends and family as contributors and they can upload their photos into your book!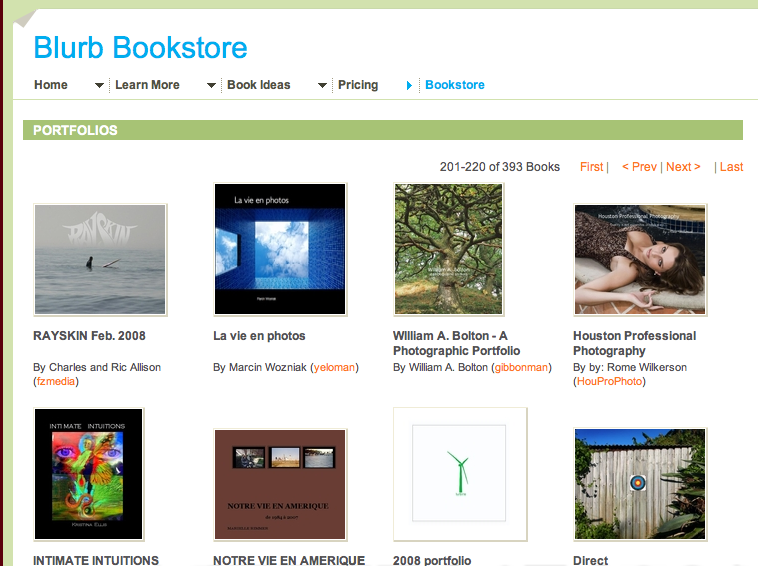 And don't forget, your creation deserves attention. So Blurb let's you share it in the bookstore. That's book STORE. Blurb prints your book on-demand for buyers for a flat fee of five bucks (plus the base price of making the book) and you set the retail. Buyers can preview the first 15 pages of the book with a Flash-based preview that let's you flip through the pages with your mouse.



One of my favorite things about Blurb is there sincere effort to be an honest service. There are no gimmicks, hidden costs or secrets to what's going on. There's a healthy community of forums, a page full of tutorials, profiles of the Blurb team, and of course, a blog.