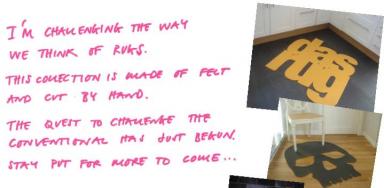 John Pour Home make personalized rugs in any size. Just send in a name, a word, a phrase or a picture. They then hand cut 5mm felt in your choice of 13 available colours.
Perhaps you could even design intersecting components to make a giant puzzle rug??
This is not the only company offering customizable floor coverings, but it is one of the more contemporary examples. Others include Logo Mats, MyRug.in, Tufenkian Carpets, Maudedcor and Daryl Hansen.