3DVIA is the newest of the Dassault Systemes brands. (currently include SolidWorks, CATIA and the now defunct Cosmic Blobs [RIP]) Its mission is democratizing the usage of 3D so that everybody can use it in their everyday life, either at work or at home, through the web. Leveraging all existing 3D technologies of Dassault Systemes, as well as developing new ones, to deliver new types of innovative 3D services, online.



3dvia.com will be the meeting point for all the communities wishing to improving everyday's life with 3D. It will provide both 3D content and 3D services, either very generic or more dedicated to specific goals. It relies on dedicated infrastructure, leverages real-time display and behavioral 3D technologies, and provides services for everyone to imagine, create, share, experience or play in 3D. Not all of the tools are free, and the gaming engine has not been released yet, but it is a step in the right direction.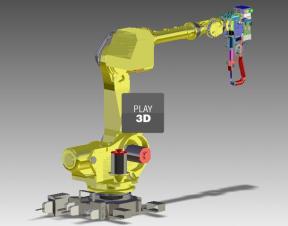 Online tools include:
3DVIA Shape is a free online 3D modeling application that allows any user to create 3D models and publish them directly to 3DVIA.com.
3DVIA MP – The premiere authoring platform for high-quality 3D game production on multiple platforms including PC, Xbox 360, PLAYSTATION PS3 and online.
3DVIA Composer will change forever the way you create, update and distribute rich product documentation.
3DVIA Printscreen – brings you for the first time and in one unique tool the ability to create and save 3D Scenes on the fly from any 3D application.
3DVIA Live, 3DVIA Live delivers a breakthrough lightweight 3D paradigm for on-line collaborative intelligence, leveraging enterprise 3D and PLM information
There is also a tool for sharing/showing off 3d models on social networking sites like 3Dcollage on Facebook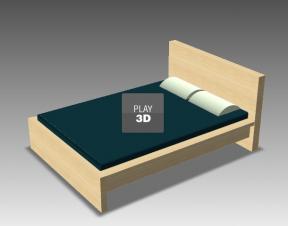 All of the software is currently P.C. only, and supported 3D file formats are currently limited to:
.3ds,
.prj (3D Studio R1-R4)
.obj (Wavefront OBJ)
.wrl (VRML1, VRML2)
.ply
.off
.stl, .stla, .stlb
.3dxml
.dae (Collada)
.kmz
and 2D formats include
.jpg, .jpe, .jpeg
.tga
.bmp
.png
.pcx
.tif, .tiff
.dib
.gif
.dds
Which is really quite reasonable.
Users publish their 3D models under "Creative Commons Licenses" which are the best dedicated to a 3D models sharing community. It is the responsibility of the user to choose the suitable copyright to associate with its model. You can also choose to mark your model as "All rights reserved".
Looks like this is a case of the very big end of town making a decent go of creating a series of open tools and a community around it.
They have also opened it up for commerce including Mass Customization applications such as Lumec3D allowing you to create your own luminaire (lamp) assembly from a large catalog of possible configuration and immediately experience it in real time within different 3D environments.
Here's one I "designed" in about 8 seconds.. including placing it in a 3d walkthrough environment.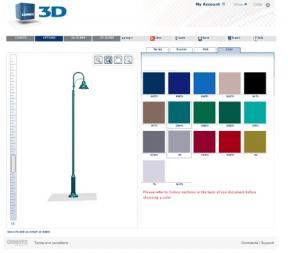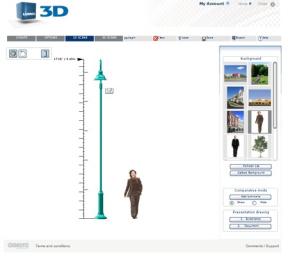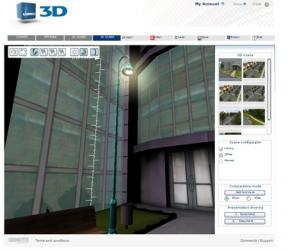 You will need to have Virtools plug in to make it all happen.