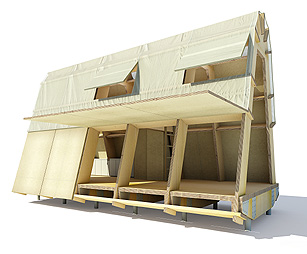 Stutchbury and Pape, working in association with the Ian Buchan Fell Housing Research Unit at University of Sydney have developed The Cardboard House. By demonstrating that we are able to recycle 100% of the building components at extremely low cost, the Cardboard House is a direct challenge to the housing industry to reduce housing and environmental costs. They see this project as a genuine temporary housing option.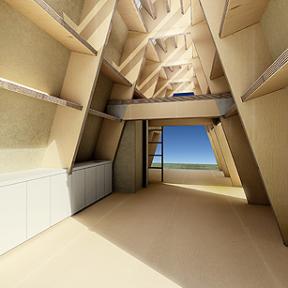 Being extremely low cost and transportable, the Cardboard House could be used in a wide variety of applications. You could live in one while your permanent house is being built or renovated, for emergency housing, or for short-term accommodation.
The Cardboard House is conceived as a kit of parts comprising a flat pack of frames, and infill floor and wall panels. It uses minimal fixings: nylon wing nuts, hand-tightened polyster tape stays and Velcro fastenings are used to assemble the frames and protective skin system. The building can be assembled by two people over a six-hour period using appropriate scaffolding, and is transportable in a light commercial vehicle.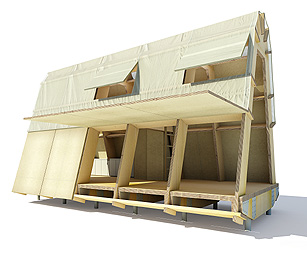 Fixed and moveable furnishings, floor systems, door and opening frames, lighting and other services all relate to the structure and layout.
The roof covering is a lightweight material that is as transportable as the structure. Similar to a tent fly, the roof fabric assists in holding down the building, providing a diffuse light in the day and a glowing box at night. Water is collected in bladders underneath the floor which double as ballast to hold down the lightweight building. A composting toilet system produces nutrient-rich water for gardening. Low-voltage lighting can be powered using a 12-volt car battery or small photovoltaic cells mounted on the roof framing.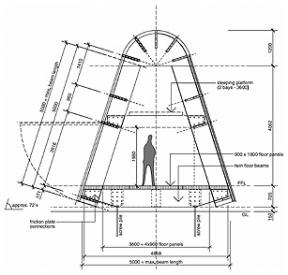 At a purchase price of just $35,000 Australian, this is a genuine short-term housing option that could be used in a variety of applications. It is lightweight, transportable, requires no more skill to erect than an Ikea product, and is fairly affordable.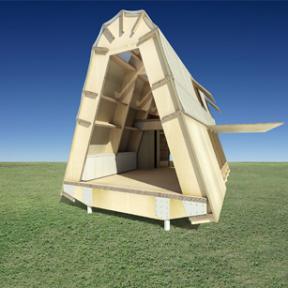 Perfect for a festival, mobile exhibition/information space.. Or kitting out with cardboard furniture. Fully Folded.
For more check out House of the Future website