Via Designspotter and Core77:
Piotr Woronkowicz designs and builds laser-engraved skateboard decks, saying "the natural material and twin kick design of the deck is emphasized by the graphics." I agree.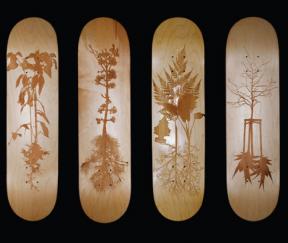 image by Piotr Woronkowicz
Its great to see such material simplicity and decorative intricacy combined in an intelligent way such as this, that reinforces the product's identity. Piotr's Dilithium chair has a similar quality – check out his portfolio here.
He obviously has a fascination with digital manufacturing (see his Facet Table) and achieving absolutely pristine finishes on pristine materials.