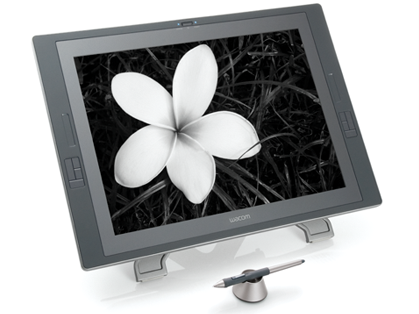 Vector softwares are an amazing and ubiquitous tool that have ushered in some of the most popular styles in contemporary graphics. (Think of all those flat silhouettes of cherry blossoms and birds.) That said, I sometimes work with designers, especially in the fashion and textile fields, that are unfamiliar and often times very intimidated by Illustrator. I assure them it is simple, but after trying out the pen tool they sometimes freak. One doesn't master bezier curves overnight, and designing with the point and clicks of a mouse isn't exactly intuitive to anyone, let alone those trained in a hands-on art or craft, say painting or illustration. So! I'd like to introduce you to the Cintiq.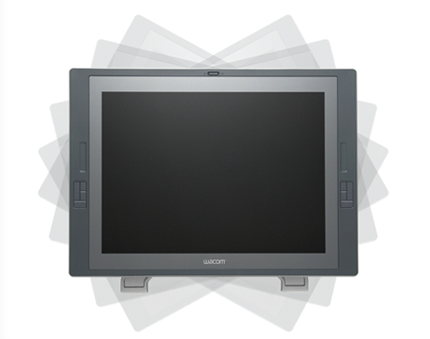 Made by Wacom, the familiar technology of the tablet has been put right into the monitor. The monitor is a touch-sensitive LCD that comes with a cordless pen. The model I use is the 21UX, having a 21.3″ diagonal.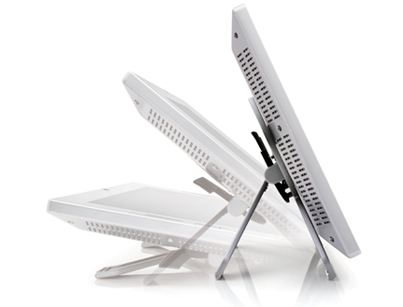 The stand is adjustable so that the monitor can sit at an angle or nearly flat against the table. It also rotates 180 degrees. Touch Strips and quick keys are on either side of the frame which can be programmed for any keyboard function. For example, you can glide your finger up the touch strip to zoom in, push an express key to change tools. Use the pen to touch a swatch, and it's as if you've dipped the pen in that ink. Glide the pen over the screen and the mark is loyal to your movements. It's even pressure sensitive.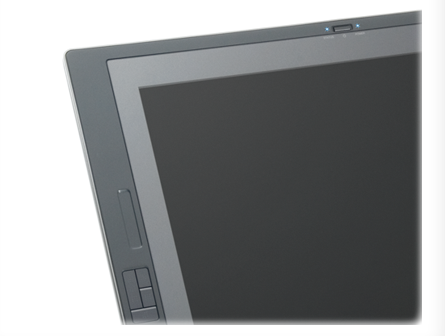 I have been using a Cintiq for about six months, and it just can't be beat. It saves incredible amounts of time, bridges the gap between the canvas and the screen, and allows anyone to create detailed vector graphics. There's another little miracle by Wacom, called the Cintiq 12WX, which is basically a digital sketchbook. I'll fill you in when I get my hands on one.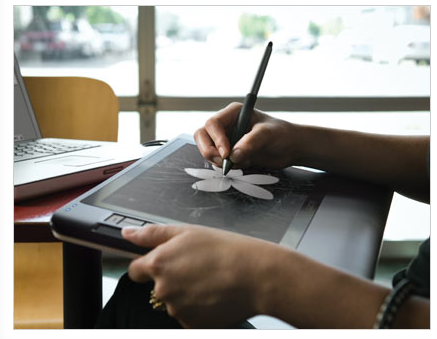 And if my words don't move you, check out the Cintiq In Action and/or rock out to Gorillaz for a few minutes.