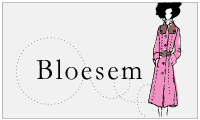 In the wake of last year's toy recall, quality has never been more important in children's products. This concerted focus has brought forth not only better options in quality, but welcome returns to classic toys designs with a fresh, fun and interactive appeal.
I came across some amazing toy designs and shops through BloesemKids, a blog I check daily. Run by Irene Hoofs who currently lives in Kuala Lumpur, BKids is a counterpart to her successful design blog Bloesem. Here is a roundup of products that could be created through Ponoko.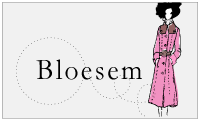 Fawn&Forest is an online retailer based in "beautiful sales-tax free Oregon". They offer a variety of toys, furniture, clothing and decor from sustainable manufacturers around the world including: Naef, who has a beautiful line of colorful, creatively educational puzzles and blocks.

Offi designs these giant, interlocking pieces that kids can use to build forts, playhouses or as the actual toy is called, a "spaceframe sculpture".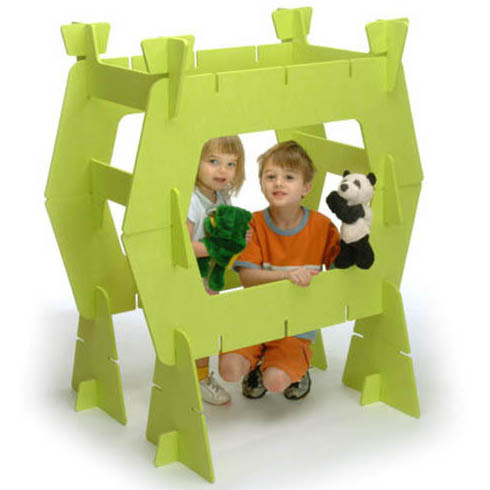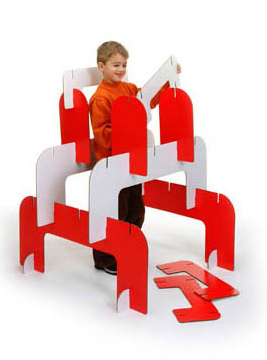 And I love this children's easel designed by InModern. It comes in natural wood (shown), fire, leaf, and cocoa.
Again, all of these products can be seen at the Fawn&Forest online shop.
Villa Carton is a company based in Holland producing flat-pack toy constructions. They currently offer this throne-like rocking chair, a doll house, and a castle. Kids can color the cardboard constructions with markers, and the website has pictorial instructions on how to assemble each item.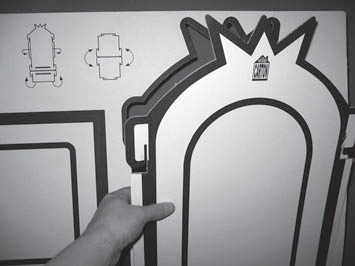 Energie Bespaarshop takes old-fashioned model making and adds solar power! I love the acrylic helicopter.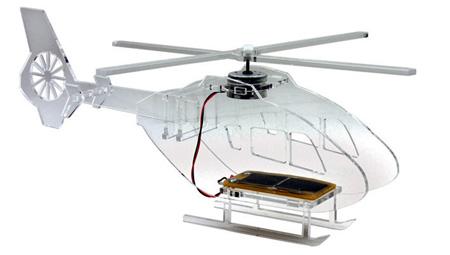 Last, but not least, The Wooden Wagon is yet another store offering high quality and modern design. Below is a set of colored wooden blocks that reminds me a lot of some of the puzzles from the 10 Day Challenge, a set of colorful wooden sticks for "wooden weaving", and a wooden and cardboard flowerpress.