Mobile phones aren't an area of great interest to me, but this Business Week article (via Core77) led me to an interesting slideshow: Responses to a Nokia design probe that went to Mumbai, Rio de Janeiro, and Accra. Its a great testament to the value of co-design with users. And maybe a preview of how phones might look when we all have means of personal fabrication, and can have our customised dream phone. Nokia already have a site for enabling users to test drive beta versions of phone software: Nokia Beta Labs involves users in specifying and developing their phones' software functions – it would be good to see a similar site allowing users and industrial designers to evolve physical phone design further from these probes.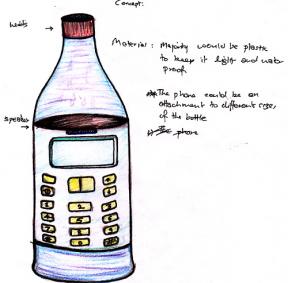 One of my favourite responses is the phone that is also a water bottle, with the accompanying comment from its author: "It's my style of phone because is helps you and others to survive. I would like to help others with my phone." You don't hear that in the UK …
There is, incidentally, a great quote in the Business Week article from a Nokia researcher, commenting on the use of a GPS program from their Beta Labs site; "People were misusing the application in creative ways." Surely 'misuse' is a rather negative term when your users are doing such valuable work!