Michael Kutshbach is an Australian born, Berlin based artist who has consistently used emerging technologies and processes in his art practice. His work crosses over from abstract painting, to interior and graphic design, animation and sculpture.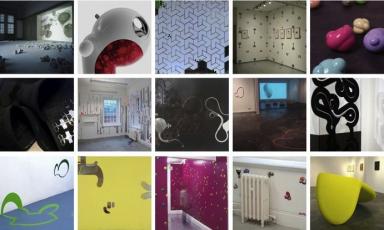 For years Michael Kutschbach has explored an extensive array of diverse techniques, mediums and artistic approaches: from his beginning as an abstract painter to the ever-developing, pop-esque, self-sticking vinyl plots that cover walls, furniture and windows or, in a similar form but different materiality, appear on wallpaper or are applied to textiles, to the blobs that are formed from plaster. Over a longer period these appear in various sizes and groupings — mono- chrome, colored or chromed, and their formal language is repeated contemporaneously in his digital animations.
Dorothea Jendricke, Berlin 2007
Having worked with Michael on a number of projects I am always inspired by his curiosity in approaching new technologies, materials and processes, and thought he would provide some great insights for Ponokosters.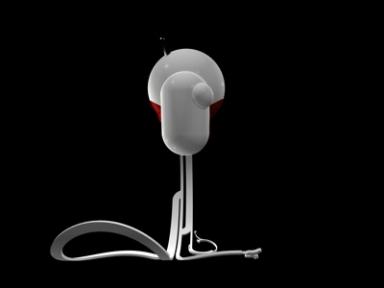 Q1. Why did you switch from painting and traditional sculpture to using laser cutting and 3d modeling tools to realize your projects?
It was more the work that took me there than an interest in using the technology or a conscious shift. close to ten years ago now i was painting abstract pictures using the palm of my hand. pretty simple stuff, but it felt deeply connected to the history of modernist painting as i understood it.



I never really know what i am doing in my work. it is often very intuitive. So one of the strategies i employ is to flip the method (not the intent or subject matter) in order to get a better understanding of what i was doing at that time. in this case i wanted to go from a very direct and tactile way of working to a method that had some distance to it. keeping with the idea of the hand made gestural mark, i used a wacom tablet to draw lines and shapes that came to resemble the painted marks in some way. the tablet drawings were made as vector drawings and were later sent to a signwriting company to be plotted from adhesive vinyl and were then applied directly to the gallery wall.



this was my first step toward using new technologies in my practice. since then i've played around with laser cutting, rapid prototyping (although always too expensive for what i wanted to do), 3d animation and so on.
in the end i like to think of technology as a tool and not the subject. this way i have the freedom to keep flipping or negating the methods i employ and the format of the work.

More in next post