In keeping with the theme for the design challenge let's have a look at some puzzles designs. Diabolical is a small design firm from New Orleans, USA. Diabolical designs and makes puzzles using laser cutting along with a few other fabrication methods to produce their beautiful an unique pieces that double as both a piece of art and a puzzle. Its art you can play with. The puzzles are apparently very challenging to complete.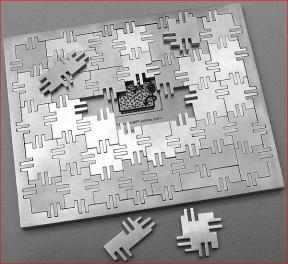 The "Synaptic Overload" puzzle is made from solid steel with a highly polished finish. Each piece is polished in a different direction to create that textured visual effect and make the puzzle more difficult.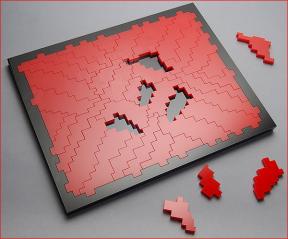 Teotihuacan is one of Diabolicala's acrylic puzzles. It uses some really interesting tetris like pieces.
Design/artist/owner Scott Fredrickson said it took him years to develop the puzzles from the original prototypes because he had a lot of trouble finding manufacturers who were willing to make them for him and didn't charge an arm and a leg. I'm sure he would've appreciated the convenience of making with Ponoko.