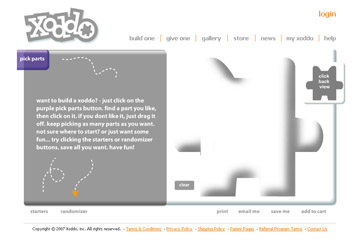 What's In Store will be a weekly topic that covers the products and/or processes of physical or virtual stores. Just yesterday, Xoddo went live to the world. I came across this company via a blurb on Dexigner and decided to check it out. Xoddo is a website that allows customers to design their own stuffed toy based on a single template.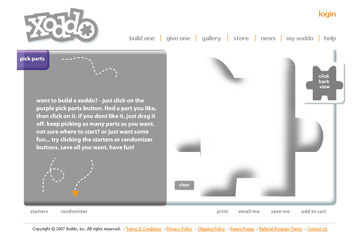 Creator Russell Benfanti writes, "As an illustrator and designer I've been creating monsters and creatures for years. In fact I've had so much fun making monsters for others, that I thought it would be fun to give everyone the opportunity to design their own".
Russel's right. It is fun to design your own. And once you do, you can choose to have your Xoddo made, print it out, or share it with others in the gallery. For those overwhelmed by starting from scratch, there are the 'Starters' and 'Randomizer' features which begin the designing for you. Here are a couple I did on my own.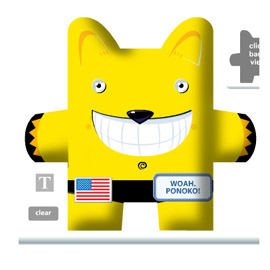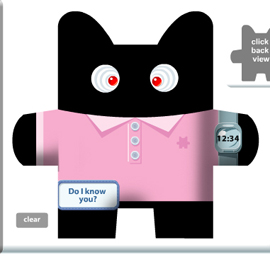 As Duann mentioned in his post on The Four Faces of Mass Customization, Xoddo is of the Adaptive sort. And I think it works really well, especially for a product intended for children. Here are some pictures of actual samples. It looks like all of the fabrics are being digitally printed… a topic I promise to write about soon.