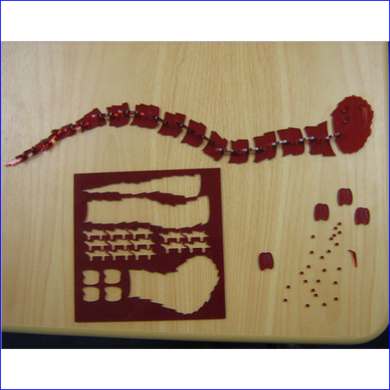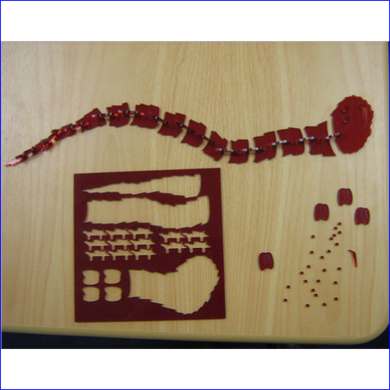 This week's Product of the Week comes from Reed Wade. Reed lives in Wellington, New Zealand (officially known as Wellywood by those in the know) and this is his first attempt on Ponoko. I love this because it reminds me of a toy I had as a kid. I also think it's an interesting way to combine 2D materials to make a 3D object. Here's Reed's description:

A segmented snake-like creature. This is my first Ponoko item and the press to fit worked much better than I had expected. The connecting segments are just tight enough that you have to twist them in and after a few turns they're just loose enough to give snake friend a pleasing movement.
I used Inkscape to lay it out. You can find the SVG file here.
More photos are on Flickr
Reed is sharing this .eps for free with All Rights Reserved. What that means is that you are are free: To make a product based on the product plan, but you cannot modify the plan or re-sell it. And under the following condition: That the creator or licensor retains full copyright for the work.
UPDATE: Reed has changed the license to "Attribution".
Congratulations Reed on being this week's Ponoko Product of the Week!