With the vote on for what material should be added to Ponoko next I went on a little hunt to see what other materials out there can be laser cut. According to an article at optics.org Cheese has been a popular material with the researchers from University of Wisconsin-Madison.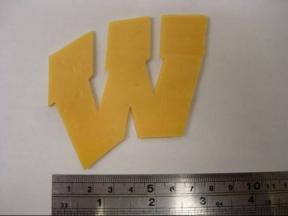 Cheese might not be much good for making jewellery or a chair but apparently laser cut cheese can be quite lucrative in the food industry. The researchers say "One motivation is the ability to cut cheese into fancy shapes that appeal to kids, such as a dinosaur or letters. The fast food industry is very interested in that idea. We've also been asked to cut meat and potato with a laser but we haven't done that yet."
It seems there is no limit to the possible materials that could be cut with a laser but I don't think cheese with be appearing as one of my favourite materials anytime soon.