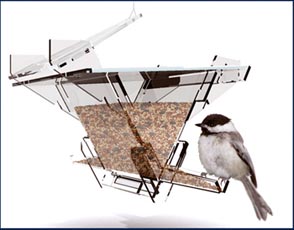 We all know that IKEA are the current kings of flat pack design.
The two dimensional forms that fit together to make a three dimensional product is the basis of many of their furniture, home wares and storage solutions. This is one of the simplest and most effective way to realise a design solution.
Now you can compete with IKEA to design your very own flat pack design as many Ponoko users already have, or you can modify, customise or hack an existing IKEA product.
IKEA Hacker is a blog dedicated to modifying existing IKEA products to create your own personalised design. From desk lamps to shelves, breakfast bars to bird cages. You can see some examples on the Instructables IKEA Hacks site and even download the CAD files for some designs.
For an incredibly refined and well realised example of IKEA hacks, Kieren Jones has produced some elegant designs which can be seen at MoCo Loco.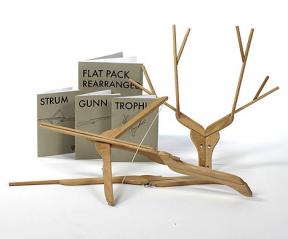 Image via Moco loco
What is most exciting here is that this can be seen as a simple starting point to modify any existing product, or use this as inspiration to design your own flat pack creation.
Existing examples of some wild flat pack designs range from the overly ambitious flat pack house (courtesy of Gregg Flieshman at Treehugger) featured in a previous Ponoko post, or check out Ben Wilson's sexy flat pack chair. Also inspiring is Totem's furniture range designed to fit together without the need for any tools or mechanical fasteners. In a similar vein is the beautiful PANO chair by Studio.Lo, found courtesy of Bloesem, or the Architect's Birdfeeder designed by architect Doug Patt.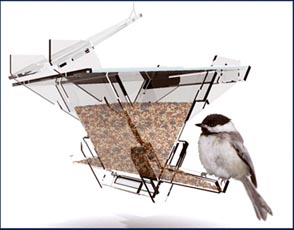 Architects Birdfeeder found via Cool Hunting.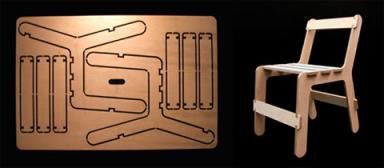 Ben Wilson's Chairfix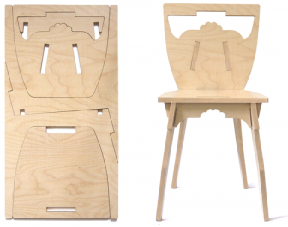 PANO chair from Studio.lo
So take a look at some of the flat pack designs already in Ponoko's marketplace like Pepe Rocks, Prometheus, or the Sliding Shelf Table and get hacking.