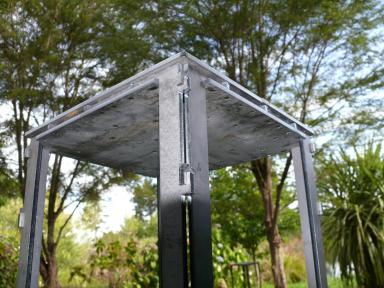 Dan Emery is our resident laser cutting genius at Ponoko. He's also responsible for a great deal of the design education for newbies to the Ponoko experience and also interaction with Designers using Ponoko. Dan is also, of course, a Designer himself of exceptional talent. And if you're in the Hamilton area (Hamilton, New Zealand) over the next month you'll be able to stop by and see one of the creations he's made for Ponoko in the past, but with a real twist. For this exhibit Dan continued to use a laser cutter, but used steel as the material of choice. It was his first experience making a piece of steel furniture with the results being particularly dynamic. Dan explains:
I was invited to submit a design for the ESCAPE exhibition at Waitakaruru Arboretum and Sculpture park in Hamilton. The response was a nest of steel tables that sit clustered on a grassy bank at the edge of a large pond at the entrance to the park. From a distance the tables long spindly legs feel unsteady as if a strong wind might unsettle them, but on approach the sturdiness of the raw steel changes this. These tables require total precision in their fabrication but disorder and chance are introduced to the work as they are left to weather and rust throughout the course of the show. The tables were laser cut by Fraser Engineering in Lower Hutt. Their experience in laser cutting steel made the transition from plywood to steel easy with the tolerances right the first time.

The exhibition runs from 15th March — 25th May 2008 and contact details and directions to the park are on their website.