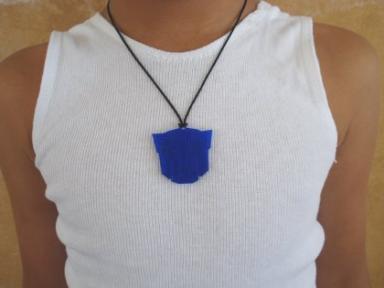 A few weeks back I wrote up my experience in using Inkscape with my kids to design a piece of jewellery with Ponoko. Now I can show you the results. They actually arrived pretty quickly but I've been messing around since then trying to work out what to use for the chain. We ended up going with the thin black leather, thought it gave the kind of "tough" look the boys wanted. Needless to say they were very happy with the results. They've already given some away to their friends and are quite keen for me to "make them some more Lego". It's definitely a case of "what have you done for me lately?" in my house.
I've added the .eps files to my new Ponoko showroom so if you want to get these made for you or your kids you can download them and have Ponoko cut them out for you. These aren't for sale though. I'm not sure on what the copyright situation is with something like this. I think you're pretty safe if you just make it for yourself and don't try to sell them. At least it seems so according to the comments on this Instructable.
One word of warning. Inkscape doesn't open .eps files. So if you'd like to customize the design yourself you'll need the .svg file. And you can download that right here!