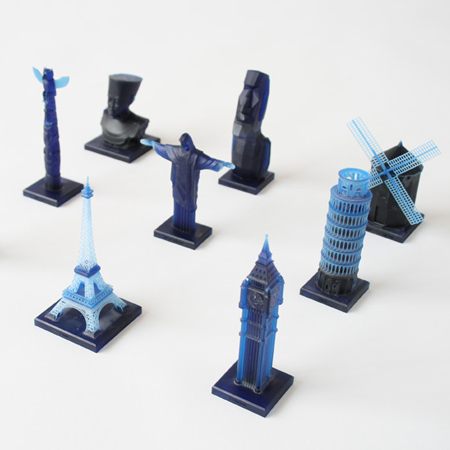 dezeen.com: Reduced Carbon Footprint Souvenirs by Hector Sorrano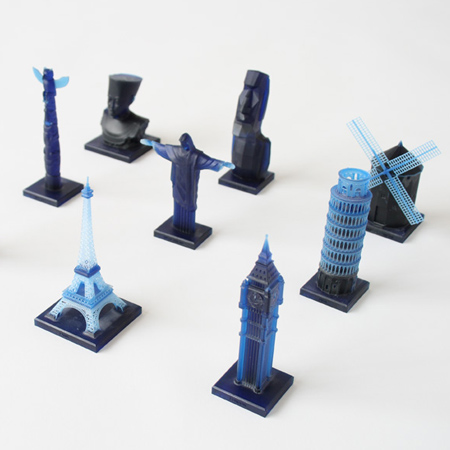 (Hector Serrano's Reduced Carbon Footprint Souvenirs via dezeen.com)
The next time you travel abroad, think hard before you pick up those chintzy trinkets that surround every tourist attraction – miniature Eiffel Towers or tiny statues of the Sphinx. If you've read the Story of Stuff, you'll know that the souvenirs that fill those shelves were probably mass produced elsewhere then transported thousands of miles to get to the dozens of tiny souvenir shops that swarm around the tourist attraction.
Hector Serrano got creative with his reduced carbon footprint souvenir project, which he created for the Ten Again exhibition of exploring sustainable design. His concept bypasses the traditional cycle of manufacturing and consuming. You send an email to your friend along with a "souvenir" which can be printed out on a 3D printer: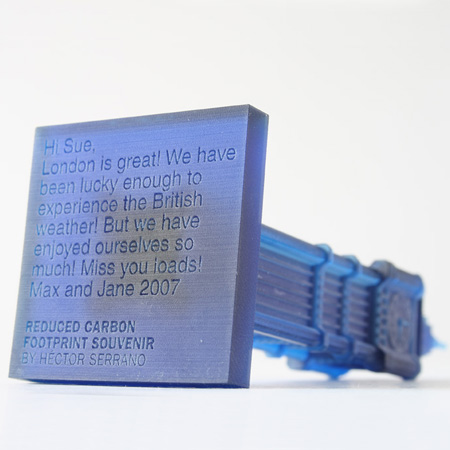 Accessibility to 3D printers is still not so widespread, but it's becoming closer and closer to hitting mainstream. And while this may not be the first priority in reducing our general carbon footprint, it's an interesting idea of how such a "little thing" as buying your friend or co-worker a souvenir can cost so much in externalized costs. With 430 million international tourists worldwide (2006), I can pretty much guarantee that a majority of those tourists are buying something to take back home – like the obligatory souvenirs to co-workers, neighbors who watched your house and fed your cat, family and friends who didn't get to go.
So why just stop with souvenirs? With Ponoko, people could similarly reduce their carbon footprint by creating gifts for people, without having to buy or ship it themselves. Personally designed jewelry (see other people's samples in the showroom), artwork or other small accessories for your loved one to put together – and all designed by you. It's one small step, but millions of small steps will surely make a huge impact.