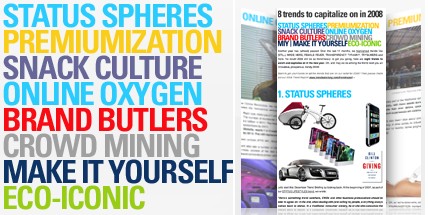 8 important consumer trends for 2008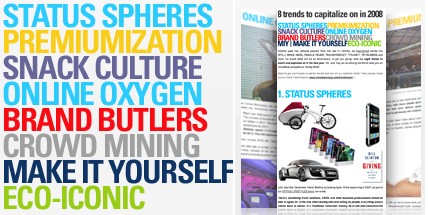 (from trendwatching.com December 2007 Monthly Trend Briefing)
There really has been an impetus towards MIY and DIY this year. A few months ago Forbes listed the Ten Industrial Design Trends You Can't Ignore – among them the DIY/MIY movement, and loosely related "personalization" where consumers are "involved" in the design process. Trendwatching.com made their list of 8 important consumer trends to watch for next year, and again, MIY is on it. They talk about "Generation C", which means Content created digitally. Now mainstream in the form of music, movies, blogs, etc., it's moving towards designs and physical goods.
From Trendwatching.com:
So what's next for GENERATION C? With (in particular younger) consumers having come to expect to be able to create anything they want as long as it is digital, and to customize and personalize many physical goods, the next frontier will be digitally designing products from scratch, then having them turned into real physical goods as well. In fact, expect MIY | MAKE IT YOURSELF (and then SIY | SELL IT YOURSELF) ventures to become increasingly sophisticated in the next 12 months.
As part of this MIY movement, we don't see this as a fleeting trend, but as a fundamental paradigm shift to how we make, use and buy things. I think the Make-It-Yourself movement is very much linked with other shifts towards sustainable design and consumption, a return to crafts and appreciation for uniqueness and individualization, and filling the needs of many long-tail consumers. I think this trend will most definitely prevail beyond 2008 and become a major part of the status quo.
One of the more interesting points for me is how younger consumers find this so natural. Their upbringing means that they don't see this as "craft". They expect to be able to customize their clothes and make their own digital content. They believe they should be able to do it with products as well. Many of these younger consumers are also very entrepreneurial minded. The popular media has idolized entrepreneurs in the last ten years, and in particular "style entrepreneurs", people like P Diddy, Snoop Dog, 50 Cent, Beyonce and Jay Z, who have built empires based on their personal style. Young consumers have quickly grasped that the Internet can provide a platform for them to spread their personal style and uniqueness for fun and profit. With the move to products I really don't see this trend going away because of the combination of fun, accessibility and entrepreneurial activity makes it such a potent mix.