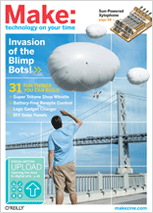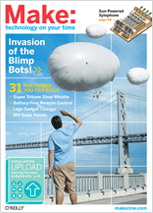 The latest issue of Make arrived at my house this week. It's always exciting when it arrives, it's one of the few magazines I find you can read over again and find new things in it. One of the first things I noticed was a two page ad for either Knoend Design or Carlo Rossi wine, I can't tell who it's for exactly. But it features a couple of really neat products that Knoend have designed. One is called the Lite2Go. A lamp that uses the packaging it's delivered in to create the lamp itself. Inhabitat wrote extensively about it earlier this year (here). It's got to be the ultimate in no waste packaging. It's multi-dimensional too since you can use as a hanging lamp or sitting on a flat suface.
The second product is pretty intriguing, it's a "Solar Jug Bench" created from two empty wine jugs, a recycled truck bed liner (I can't see where they used that) and solar powered LED lights. The idea is that you don't waste those jugs after you've finished emptying the contents into yourself this holiday season. I have to say this looks pretty cool and looks like a nice fit for a deck on summer evenings.
Carlo Rossi is hoping that they can convince some other cool designers (or anyone for that matter) to have a go at designing furniture with their jugs. You can check out the details here. It really looks like a fun project, and you can see one very elaborate example below in the Cabernet Couch. They give you the dimensions of the bottles in the design details so don't worry that you have to go about drinking a years supply of wine over a weekend to start – no matter how tempting it might be to consider it.