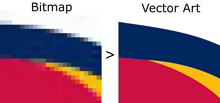 via: abduzeedo.com: Using VectorMagic
Thanks to Ponoko user Sue for steering me this way to this cool online vectorization tool that changes bitmaps into vectors. VectorMagic, the result of a research project by James Diebel and Jacob Norda at Stanford Artificial Intelligence Laboratory, is a free online auto-tracer, converting bitmap images into vector art: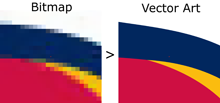 This tool can trace logos and photos, which could be incorporated into your 3D designs either as etchings/engravings, cut-outs or the actual shape. It's received some pretty positive reviews from users familiar with comparable tools like Adobe Illustrator's Live Trace and Inkscape's Trace Bitmap. It seems to be quite easy to use, especially for those not so adept with graphic software. Bittbox gives it two thumbs up and shows some examples of images that have been vectorized. As does JTB World Blog and Geekfindr. Check it out and have a look at their samples and comparisons with the other tools.