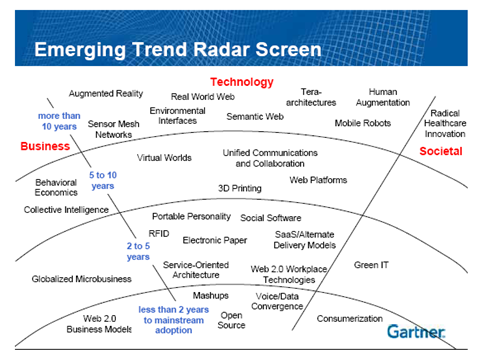 ZDnet Between the Lines Blog – Emerging Trends: 3D printing; robots galore; human augmentation.
If you're new to the blog, you may wonder why I'm writing about this. You can quietly disregard the robot and human augmentation part (unless you're truly intrigued). It's the 3D printing, personal manufacturing, rapid prototyping part — this is all the stuff we're fascinated with and truly see as a core part of how we will make and buy things in the future. From the 2007 Gartner Symposium/ITXpo in Orlando, Jackie Fenn presented the emerging trends they see on their IT radar in the next 10 years: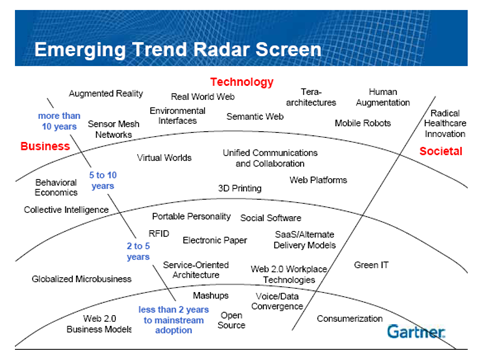 via ZDnet
I'd like to draw your attention to 3D printers in the 5 – 10 year range:
Personal manufacturing and fabbing: Fenn says that 3D printers will be coming to a Kinko's near you in the not too distant future. Today, these printers are used for industrial prototyping, product designs and architectural models. But there is a growing hobbyist movement. In a few years, you'll see home-based printing of replacement parts. Your kids will print out models of their avatars. These printers, which come from companies like Z Corporation, are in the $20,000 price range–the price range where laser printers got their start. Timeline: 5 to 10 years.
I'd like to think this will happen much closer to 5 years rather than 10 (see earlier post on The Next Disrupters and Commerical 3D Compact Printers Coming Soon). More accessible and affordable 3D printers are around even now – from DIY versions from Fab@Home & RepRap, to Desktop Factory and 3D Systems V-Flash compact, which was launched last month.
For the Ponoko community, the exchanging of designs with the ability to manufacture at home or at a local 3D printing shop is where we want to be. At the moment, current digital manufacturing technologies are right up there allowing us to do some fantastic work. But when fabbers hit mainstream, we'll be ready (and so will Ponoko users!).