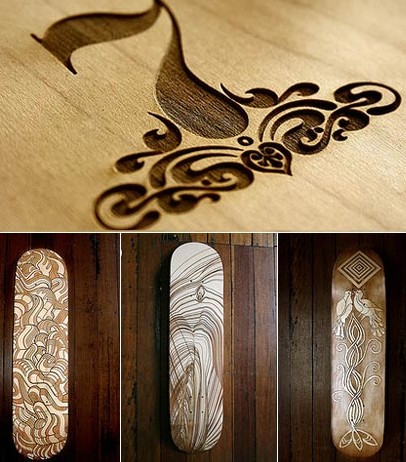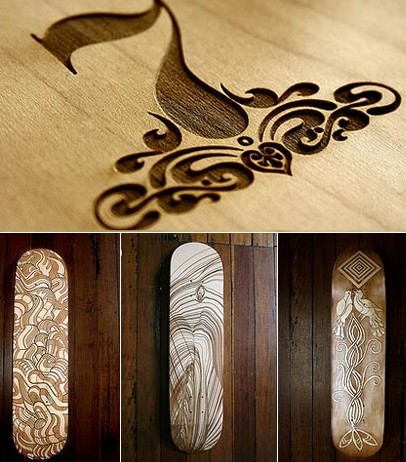 (photo from core.77.com)
You could say that great skaters like Tony Hawk and Mark Gonzales are really artists who create incredible jumps and spins, and I'd totally agree. But these artists who laser-cut their designs into these boards are the real deal.
Australian skateboard magazine Refill launched an exhibition of laser-cut designed skateboards calling it Seven – for the seven layers of ply that make the skateboard deck. Eighty artists were invited to create their designs, each making 50 limited editions for sale. Their first exhibit kicked off in March in Australia, hitting New York, Los Angeles followed by a European tour.
From Generator.x:
In terms of laser cutting used as an image medium, Refill Seven is one of the most interesting examples to date. Skate and surf culture has always been fond of customization, so laser engraving skateboards makes perfect sense. Most of the pieces are in the baroque style popular with skaters, with only a few examples of abstract work. There doesn't seem to be any computational pieces, so in that sense the uniquely digital nature of the technology has been passed over.

Technically, the project is very advanced. A rotating clamp was used to ensure smooth engraving even in non-flat areas. For obvious reasons laser cutting is oriented towards lines, but here filled areas are smoothly drawn. According to Wired Magazine a resolution of 1200 DPI was achieved, which is far beyond most current laser cutting.
I'm not a skater, but I would definitely love to see one of these beauties hanging up on my wall.
For more pix check out their flickr page.
via Core 77 and Generator.x