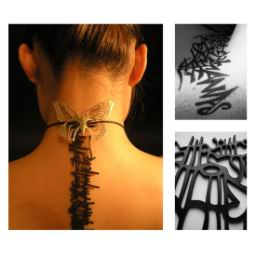 MoCo Loco: Laura Bezant Jewellery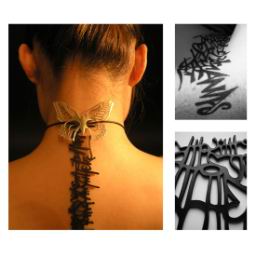 I've written a lot about furniture and the like, but I haven't touched on design in jewellery. I guess as a guy I don't pay too much attention to jewellery, but this caught my wife's eye. And since I like manga and anime, I thought this was quite cool too.
Far from traditional, Laura Bezant's jewellery has a more edgy cultural appeal – Japanese manga and graffiti inspired cuffs, backlaces, earrings, necklaces and shoulder pieces. She laser cuts strips of leather or metal to form her intricate designs, some which may at first appear to be a pattern, but are actually words or verses. She offers bespoke cuffs and backlaces which tell a story – a string of words or verses you choose. So rather than having something engraved, you can display your words as art themselves. The only thing we wonder is whether she actually does kanji or other written languages.
(above photo from artshole.co.uk)