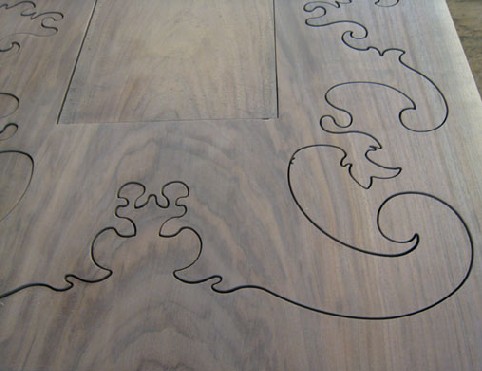 Inhabitat: MIRROR MIRROR on the HauteGREEN wall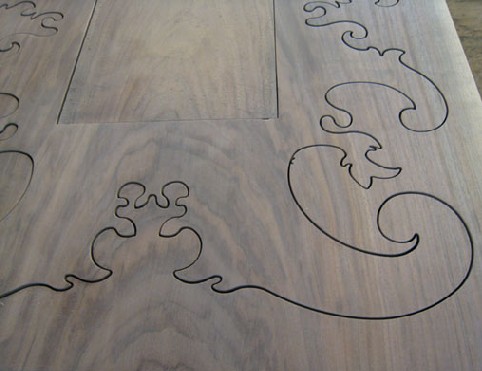 My father is a builder and a cabinet maker by trade, so I've grown up watching him work. He usually worked on renovating older homes, ripping out the older, weathered materials and updating with new materials. Sometimes he would come back with some treasured finds like solid pieces of native New Zealand timber like Kauri, Rimu, and Matai. From those rescued pieces he would often save them and later use them to create things – the odd table or chest and also these huge 6-foot high mirrors framed with beautiful rimu.
So I thought of him when I saw this wood Mirror Mirror by Paul Loebach via Inhabitat. It's a beautiful and very intricate design – definitely much more involved than those of my dad's. I really like the balinese-like flowing design, which makes it all more impressive since I know working with wood is very difficult and requires a lot of skills and good tools – especially to have it cut so precisely and smoothly. I'm not sure what Loebach used with this mirror (I looked on his site for it and couldn't find it), but according to another similar mirror, like this one, he uses a water jet to cut a solid piece of wood. I suspect he may have used the same, but I certainly could be wrong!
What Inhabitat liked about this mirror was that he aims for zero wastage – using one piece of salvaged wood to make 2 mirrors with one cut. From Inhabitat:
The idea for this piece was simple, "By using a single cutting operation to produce multiple objects with zero waste, this product is a playful exploration of how efficient manufacturing processes can provide sustainable solutions." Paul said.
Here are the two mirrors: